"Respect Weekend" is over before it started thanks to LeGarrette Blount's reprehensible behavior following No. 14 Boise State's 19-8 victory over No. 16 Oregon on Thursday night.
Although hundreds of notches above the depths that Blount reached after the final gun, the evening didn't exactly start out cordial as the Ducks and Broncos formed mobs at midfield and jawed at each other during pregame warmups.
Blount, a senior running back who rushed for 1,007 yards for the Ducks last season, fueled those antics with an ill-advised offseason quote directed at the Broncos: "We owe that team a serious ass-whuppin."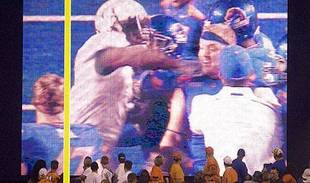 Blount responded with a straight right to Hout's jaw. Surprised by the sucker punch, the 6-foot, 240-pound sophomore dropped to the SmurfTurf, but quickly popped back up to his feet. Now in the hands of Peterson, Hout was done for the night.
Blount, however, was just getting started.
After bouncing backward away from the scene like Floyd Mayweather, looking for more trouble with his hands at the ready, three of Blount's teammates rushed over to settle him down. Duck wide receiver Garrett Embry led that charge. Blount wasn't having that either and proceeded to go after Embry, landing a stiff shove to the neck.
While wearing an extremely disturbed expression on his face, Blount was then loosely escorted toward the visiting locker room. The ugliness appeared to be over. But as he got closer to the stands near one of Bronco Stadium's tunnels, Blount, of course, started to hear it from the Boise State faithful.
That caused another explosion as he aggressively charged the stands. Thankfully, he was intercepted by police and security personnel just before reaching a railing separating him from the jeering fans.
It took nearly a minute and a wide variety of people to corral Blount and finally get him into Oregon's locker room.
If there is any justice in this sporting world, it is there that he got the "ass-whuppin" he was looking for on this night.