.055 — Frank Beamer's winning percentage versus Top-5 opposition during his tenure at Virginia Tech (1-17). Hey, the Hokies were .000 in that regard before he got to Blacksburg (0-9).
.667 — Winning percentage of the Mountain West Conference over the Big 12 Conference this past weekend (2-1). All three of those MWC teams (Brigham Young, Colorado State and New Mexico) were heavy underdogs, receiving a total of 51 points from oddsmakers.
1 — Victory by an Atlantic Coast Conference team over an FBS team so far on Week 1 (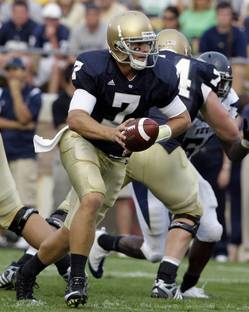 716 — Passing yards by Jimmy Clausen in his last two games (37-of-44, nine touchdowns, no interceptions). But during that same span, he's 0-of-0, for 0 yards, with 0 touchdowns and 0 interceptions versus non-WAC teams.
1,250 — Empty seats at Neyland Stadium last Saturday for the start of the Lane Kiffin era. I guess he didn't make quite enough noise during the offseason.
4,132 — Miles traveled by Central Arkansas for its game at Hawaii. A bus trip from Conway, Ark., to Dallas accounts for 342 of those miles. Thankfully the flight from DFW to HNL was non-stop. Some of this might explain why the Bears ran out of gas at the end of the 25-20 Warrior victory that kicked off at midnight Central Time.