0 — Points allowed by Oklahoma in its last two games, outscoring Idaho State and Tulsa by 109 points. And times Washington allowed USC to convert on third down (0-10), befuddling the then-No. 3 Trojans.
.222 — Combined winning percentage of the first three teams on Florida's schedule — Charleston Southern, Troy and Tennessee (2-7). Which is why it shouldn't be surprising that it took nearly 172 minutes of game time for a touchdown to be scored against the Gators this season.
.905 — Winning percentage of SEC teams in non-conference games (19-2).
2 — Total punts in the Florida State at BYU game. One by each team. If the Cougars could have punted a couple more times, maybe it would have been more of a game. BYU threw three interceptions and lost two fumbles in the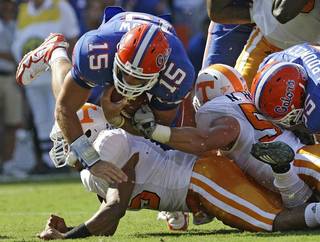 24 — Carries by Tim Tebow (pictured) in Florida's victory over Tennessee. That's four more than the rest of the Gator team combined.
31 — Yards in reverse that Nebraska traveled after gaining a first-and-goal at the Virginia Tech six-yard line. You don't see fourth-and-goal from the 37 very often. Any sort of score on that unique third-quarter "drive" might have helped out quite a bit. Instead, the Huskers, who lost 16-15, punted into the end zone for a net of 17 yards.
32 — Consecutive victories by LSU in night games played at Tiger Stadium, after manhandling Louisiana-Lafayette, 31-3, under the lights. Florida visits Death Valley for a nighttime affair on Oct. 10.
41 — Consecutive games that South Florida star Matt Grothe has started at quarterback. An unfortunate ACL injury suffered last Saturday in a 59-0 victory over Charleston Southern will end that streak and the senior's collegiate career.
43 — Minutes burned off the clock before Boston College earned its first non-penalty first down in a limp 25-7 loss at Clemson.
54 — Yards of total offense gained by the Eagles versus the Tigers. Here's some even smaller numbers for Boston College . . . 29 yards rushing, 25 yards passing.
59 — Point differential from one season to another for USC and Washington. The Trojans torched the Huskies, 56-0, last season, but got beat on a last-season field goal, 16-13, on Saturday.
60 — Fresno State running back Ryan Mathews' minimum requirement for touchdown run yardage. He had scoring jaunts of 60, 68 and 69 yards versus Boise State.
88 — Years since Ohio State has lost to a team from the state of Ohio.
107 — Total points USC was favored by in its five losses to overmatched Pac-10 foes in the last four years. The Trojans were straight up losers while giving 10 points to Oregon State and 11 to UCLA in 2006. Who can forget 41-point underdog Stanford beating the Trojans at the Coliseum in 2007? Last year, USC was favored by 25 at Oregon State, but lost again in Corvallis. And Washington, a 20-point dog, just joined the club.
162 — Total combined yards of Alex Henery's five field goals for Nebraska at Virginia Tech.
184.07 — Pass efficiency rating for Miami quarterback Jacory Harris (pictured). We don't really know what to make of that particular number, but these look great — 69.5 percent completions, 656 yards and five touchdowns, in two games.
329 — Consecutive passes thrown by North Carolina State quarterback Russell Wilson without tossing an interception, which is now an "unofficial" NCAA record, snapping the mark of 325 previously held by Kentucky's Andre Woodson. Wilson, who broke the record last Saturday against Gardner-Webb, will have a tougher time keeping it going this week versus Pittsburgh.
742 — Days between instances of Washington and Washington State both winning on the same day, and Brigham Young and Utah both losing on the same day (Sept. 8, 2007 — Sept. 19, 2009).