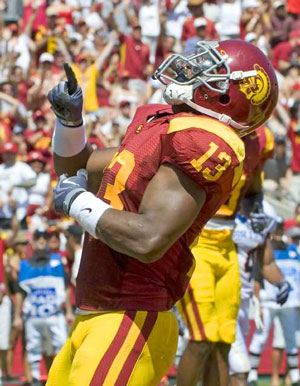 USC senior tailback Stafon Johnson underwent more than seven hours of surgery on Monday after suffering severe injuries to his neck and larynx while weightlifting at the school's football facility.
He is in critical but stable condition.
According to Dr. Gudata Hinika, the trauma medical director at California Hospital Medical Center, Johnson is likely to be out for the season, but doctors expect him to make a full recovery.
Johnson was bench-pressing with a member of the school's strength and conditioning staff serving as a spotter, when the bar slipped out of his right hand and fell at an angle onto his throat.
He was rushed by way of ambulance to California Hospital' Medical Center in downtown Los Angeles, near the USC campus.
Dr. Hinika said Johnson arrived with a threatened airway and required extensive specialized surgery by an otolaryngologist.
Johnson, who is listed as a co-starter with junior Joe McKnight, has rushed for 157 yards and five touchdowns on 47 carries this season.
He led the Trojans in rushing last season with 705 yards. Johnson has run for 1,552 yards and 19 touchdowns in his four-year collegiate career.
According to USCTrojans.com, Trojan strength and conditioning coach Chris Carlisle was 10 feet away from Johnson and his spotter when the accident occurred.
"I've seen players have the bar slip and fall onto their chest, but never in my 25 years of coaching have I heard of someone dropping a bar on their throat," Carlisle said. "We're fortunate he was being spotted."