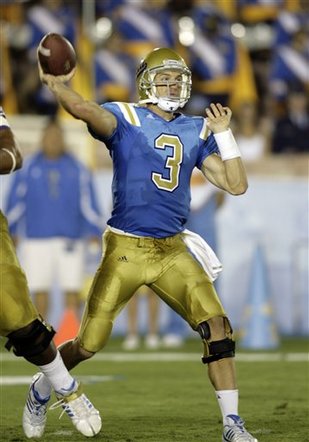 Contrary to the beliefs of UCLA fans and coaches, Stanford boss Jim Harbaugh believes he'll be facing the Bruins best quarterback on Saturday in Palo Alto.
"(Kevin Craft) is very resourceful and athletic," Harbaugh told the Los Angeles Times. "I always felt he was their best quarterback."
Craft, a senior who started all 12 of UCLA's games last season, was demoted to backup duty this season, making way for redshirt freshman Kevin Prince.
Prince, however, broke his jaw late in the fourth quarter of the Bruins 19-15 victory at Tennessee on Sept. 12.
UCLA fans held their breath as Craft, who led the nation last season with 20 interceptions, started last Saturday against Kansas State. The Bruins survived as Craft completed 13-of-24 for 186 yards and a touchdown. He threw only one pick in a 23-9 victory over the Wildcats.
Most of Harbaugh's praise probably stems from what happened last year when Stanford went to Pasadena. Craft had his finest hour versus the Cardinal, leading the Bruins on an 87-yard drive in the closing minutes to pull out a 23-20 victory.
He was 23-of-39 for 285 yards and his second touchdown pass was the game-winner with 10 seconds remaining.
This year, the rematch is a biggie. Stanford leads the Pac-10 with a 2-0 league mark, fresh off an impressive 34-14 win over Washington, which toppled USC the week before. At 3-0, UCLA is the conference's only undefeated team and has developed some high aspirations.
Meanwhile, Prince is on the mend and could be back on the field next weekend when Oregon pays a visit to the Rose Bowl.
According to the L.A. Daily News, Prince threw extra balls after practice on Wednesday.