This week's 18-unit curriculum is dedicated to the members of the University of Hawai'i football team who spent only nine days attending classes on campus last month due to extraordinary travel requirements. Thank goodness for an army of tutors.
FOUR-UNIT COURSES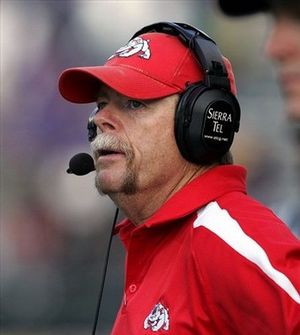 Principles of Microeconomics — Fresno State head coach Pat Hill and the rest of his staff are back in the swing of things at work after taking Monday and Tuesday off. There are normally no days off during the football season, but since the state of California's finances are in worse shape than Jon Gosselin's life, employees within the California State University system are required to take two unpaid days off per month. However, glorified PE teachers coaches are being given some flexibility in scheduling their furlough days. Fresno State's staff has worked out a schedule that will see them take only seven of this year's 24 furlough days during the football season, including those two days earlier this week because the Bulldogs don't have a game this weekend. With that non-conference schedule he has (Wisconsin, Cincinnati and Illinois), Hill deserves some time off if he wants it, but if he can't work everyday to prepare his team to the best of its ability, how can he really compete? And if that's the case, he'll sadly end up like hundreds of thousands of other Californians . . . out of a job.
Social Responsibility of News Media — You'd expect a little more from an Ivy League outfit, but the Harvard Voice certainly has a lot to learn. Using a blog on its website and an official Twitter account, the student magazine led the charge in a despicable campaign to harrass Brown freshman and "Harry Potter" star Emma Watson, who came to Cambridge to root for the Bears in a game pitting last year's co-Ancient Eight champs against each other (the Crimson won, 24-21). Prior to the game, the Harvard Voice website said that it would be "possibly stalking Emma Watson." After the game, with its mission accomplished by its followers who made the day very uncomfortable for Watson, the website predictably posted a pompous message, saying it had done nothing wrong.
THREE-UNIT COURSES
Marketing Analysis and Strategy — San Diego State will be handing out replica Brian Sipe jerseys to the first 20,000 fans through the turnstiles at Qualcomm Stadium for Saturday's game against New Mexico State. This brings up a couple unpleasant facts. First of all, the SDSU season ticket base that has continued to slip-slide away currently consists of a quaint gathering of 9,662. Attendance this year figures to be even less than last season when the Aztecs played only two home games before audiences larger than 14,500. New Mexico State, one of the worst teams in the nation, not being any sort of draw, there will be boxes and boxes of Sipe jerseys to spare.
Intro to Atmospheric Sciences — The new Yankee Stadium in the Bronx is the most impressive sports facility east of Cowboys Stadium, but that doesn't mean you have to have a "Yankee Bowl" in that yard on Dec. 29, 2010. Setting aside the fact that it'll be extremely tough to get a hotel room in the city, the weather is slightly unpleasant in the Big Apple at that time of year. There's a reason why the 1961 and 1962 Gotham Bowls are the only postseason college football games ever contested in New York City. It's cold. The 1961 game drew a "crowd" of 15,123 that saw Baylor beat Utah State, 24-9, at the Polo Grounds. The following year, attendance dropped to 6,166 — a game-time temperature of 14 degrees might have had something to do with it — but at least the game was great as Nebraska posted a thrilling 36-34 victory over Miami (Fla.) at the old Yankee Stadium.
TWO-UNIT COURSES
Psychology of Execration — Cal football is cursed. If The Wall Street Journal says so, it's official. You're done. Memo to Jeff Tedford: Get out while you still can.
Media Law — Whatever dirty laundry Florida State and/or the NCAA sought to keep confidential following the school's appeal of an academic cheating penalty is on its way to being made public. If there is anything embarrassing in the documents for FSU, Bobby Bowden, et al, we'll know about it soon enough from a news outlet, instead of via Twitter if the First District Court of Appeal had overturned the lower court's initial ruling.