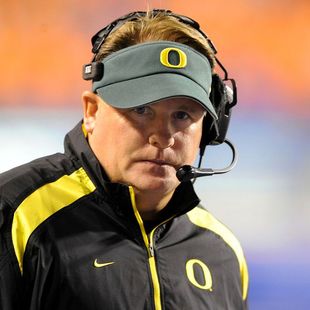 Oregon running back LeGarrette Blount could be appearing on a football field near you this fall after all.
Duck coach Chip Kelly (pictured) has called a press conference for Friday to discuss his one-time star, who rushed for 1,002 yards and 17 touchdowns last season. If Kelly has something new to tell us, Blount figures to be back.
Blount's senior season ended a few hours after it began in Boise on Sept. 3. Moments after Boise State's 19-8 victory over Oregon became official, Blount became a YouTube Hall of Famer for his televised sucker punch that landed flush on the jaw of Bronco defensive end Byron Hout.
But Blount wasn't done yet. He proceeded to get into a shoving match with teammates and had to be restrained by several people, including police, from going into the stands to confront a batch of Boise State fans.
A day later, Kelly reacted strongly, suspending Blount for the remainder of the 2009 season, essentially ending his collegiate career.
On Thursday afternoon, the Oregon Daily Emerald student newspaper posted a letter to the editor signed by Blount, apologizing for his actions and saying that he does not expect to be giving a second chance on the football field.
It remains to be seen how much the written public apology factored into Kelly's change of heart or if it was merely step one in a PR campaign to ease Blount back into the backfield.
By the way . . . by virtue for their stunning 42-3 victory over then-No. 6 ranked California last Saturday, the Ducks (3-1, 1-0 in the Pac-10) have won three in a row since the debacle in Boise and are back in the hunt for the Rose Bowl.
That probably has a lot to do with what's about to happen.
With three teams that didn't go bowling last season — Washington State, UCLA and Washington — next up for the Ducks, here's our prediction . . . Kelly will announce that Blount's first game back will be Oct. 31, against USC.