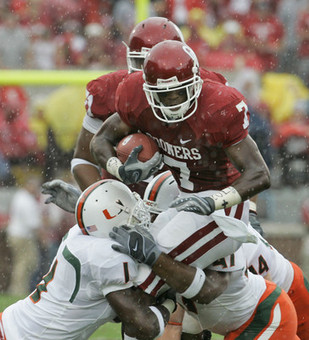 1. — Oklahoma redshirt freshman quarterback Landry Jones, who will be making his first start on the road, has been the main topic of conversation, heading into Saturday's huge clash at Miami, but the Hurricane defense better be on its toes when Jones merely hands off the football. Miami's run defense at Virginia Tech wasn't good and if it puts forth a similar effort against Sooner running back DeMarco Murray (pictured), it won't matter much who's taking the snaps for Oklahoma.
2. — The time is now for a pair of supposed biggies in the Big Ten. Michigan State and Illinois have been major disappointments and are bringing up the rear in the conference standings. The season is still young, but both the Spartans and Illini, who are a combined 2-5 overall and 0-2 in league play, need to turn it around now. Both are at home, but it won't be easy. Michigan State hosts No. 22 Michigan, while Illinois welcomes No. 15 Penn State to Champaign.
3. — LSU is hearing that it's vastly overrated at No. 4 (narrow wins at Washington and Mississippi State). Georgia's detractors say it's lucky to be 3-1 and 2-0 in the SEC (averaging three turnovers and 10 penalties per game). There's considerable merit in both those opinions, but it's unlikely that the one that emerges from between the hedges as the victor on Saturday will be hearing that same tune . . . at least for a week.
4. — Will NoCal or SoCal take an early upper-hand in the Pac-10? If you've got a helicopter at your disposal to usurp the Bay Area traffic, you can see it all unfold before your very own eyes. First up is UCLA at Stanford, followed by the nightcap of USC at California. The Bruins and Cardinal have been playing above expectations, while the Trojans and Bears have already each absorbed a loss that defies description.
5. — For the first time since the epic 2006 Rose Bowl between USC and Texas, Lane Kiffin and Gene Chizik will be at opposite ends of a football field. This time, they're calling all the shots for Tennessee and Auburn, who will clash on Saturday in Knoxville. Nearly four years ago, Chizik was the Longhorn defensive coordinator and got the better of Kiffin, who was the Trojan offensive coordinator. If Auburn's no-huddle offense isn't able to maintain its efficiency within the mayhem of Neyland Stadium, Kiffin should be able to even the score between the two.
6. — The "Tyrone Willingham Bowl" pits his two most recent teams against each other in South Bend. Charlie Weis initially won with the players Willingham left behind at Notre Dame and now Steve Sarkisian is doing the same at Washington. But who will win out on Saturday? Sarkisian, who took over an 0-12 team, has nothing to lose and a lot to gain. For Weis, it's the exact opposite . . . as usual.
7. — No. 12 Houston begins a three-game road swing on Saturday at UTEP. Maybe this game doesn't look like the toughest of the trio, which concludes with trips to Mississippi State and Tulane, but wait a second. The last time the Cougars went to El Paso, they escaped with a 34-31 win in 2007. And last year, the Miners led Houston, 28-9, late in the third quarter before the Cougars launched a furious comeback and won 42-37. Stay tuned. We've seen stranger things happen.
8. — Will we see another instance of Jahvid Best's worst? Last week, the California running back fell out of the Heisman Trophy race he had been leading, rushing for just 55 yards on 16 carries in the Bears' disgraceful 42-3 loss at Oregon. There's always the next game, but in this particular case, USC is strutting into Berkeley. Best had even more trouble against the Trojans the last time he encountered them, managing just 30 yards on 13 tries. If he can't get anything going, Cal quarterback Kevin Riley will have to carry too much of the load, something he's not very good at.
9. — No offense to Army, but the Commander-in-Chief Trophy will be on the line Saturday as Air Force visits Navy. The trophy has taken up residence in Annapolis for the last six years, but the Falcons, who currently lead the nation in rushing with 319 yards per game on the ground, have designs on getting it back.
10. (Special Friday Night Lights Storyline) — Louisville, which has lost its last seven games to FBS opposition, needs a victory in the worst way tonight against Pittsburgh, which wasn't opposed to laying an egg on the road last week at North Carolina State, turning a 31-17 lead late in the third quarter into a 38-31 loss. Cardinals head coach Steve Kragthrope is under fire from all directions and needs his team to hold on to the football. In those seven losses, Louisville is an obscene minus-13 in turnover margin.