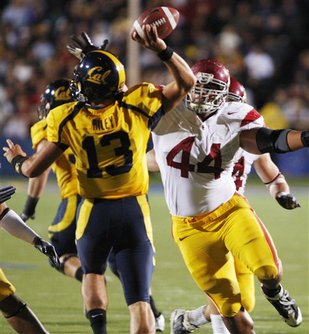 0 — Passing touchdowns allowed by the USC defense this season. The Trojans are the
422 — Yards passing by Jimmy Clausen last Saturday, causing many to place his name among those in contention for the Heisman Trophy. You don't win Heismans for y
our successes against Washington. Let's see how he does next week against USC before inviting the guy to NYC.
536 — Passing yards by Houston quarterback Case Keenum in a losing effort. The junior completed 51 of his 76 attempts, five going for touchdowns, in the Cougars' stunning 58-41 loss at UTEP.
773 — Yards of total offense for Nevada in a 63-28 victory over UNLV. The Wolf Pack ran for 559 yards on 55 carries, and three players had at least 170 rushing yards. All of that more than made up for Nevada's four lost fumbles and 15 penalties for 169 yards.
800 — Number of football games won by Harvard in its history. The milestone victory came at Lehigh on Saturday, courtesy of an interception return for a touchdown by Jon Takamura that covered 60 yards. Takamura, a 6-foot-2, 220-pound linebacker from 'Iolani School in Honolulu (our all-time favorite school), also pulled off a "pick-six" one week earlier in victory No. 799 over Brown.
1978 — The last year a team opened the season against four consecutive Top 20 opponents before Miami did so this year. The Hurricanes went a more-than-respectable 3-1 with wins over Florida State, Georgia Tech and Oklahoma, and the lone loss coming at Virginia Tech.
9,126 — Yards of total offense by quarterback Juice Williams in his Illinois career, 321 of which came on Saturday during a 35-17 loss to Penn State, pushing him to the top of the school's all-time chart past Kurt Kittner's total of 8,880. Two days later, Williams was benched by Illini head coach Ron Zook in favor of junior Eddie McGee.