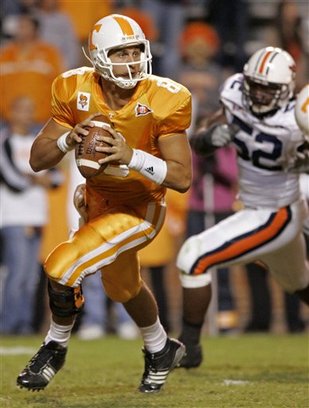 If you think Tennessee quarterback Jonathan Crompton is playing poorly, what about Nick Stephens? How bad must Stephens be in practice? Can you imagine being the backup to a guy who clearly isn't getting the job done, but not getting a chance to show what you can do in a game? Didn't Stephens start six games last season? Could he really be that bad?
What do you think former Vols quarterback B.J. Coleman is thinking after watching the way Crompton has played in the first five games of the season? Do you think some patience would have been rewarded if Coleman (883 yards passing, nine touchdowns and one interception as the starter at UT-Chattanooga right now) hadn't decided to leave Knoxville after feeling like he wasn't given a fair shot at earning the starting gig this past spring?
And what was Lane Kiffin thinking when he chased away top quarterback prospect Tajh Boyd, who committed to the Vols during the Phillip Fulmer regime? Wouldn't any option be a good option at this point?
Is anyone willing to suggest that California's Jeff Tedford might not be a good coach? When was the last time this guy won a big game? Heck, when was the last time Tedford's Bears scored a touchdown? Where has that Heisman Trophy candidate been lately?
Yes, it's true that Stanford hasn't faced either of the two teams Cal has lost to — Oregon and USC — but is there any chance that the Cardinal don't fare better when they have to face the music? I mean, you can't do much worse than zero touchdowns in two games, right?
If things go well for both teams, how interesting could the Notre Dame at Stanford game on Nov. 28 end up being? Who would have thought that the regular-season finale for both of these teams could have any sort of national (and possibly Heisman) implications? Well . . . besides Irish optimist Lou Holtz?
If Michigan could have come out on top in overtime against Michigan State last Saturday, would Tate Forcier be getting Jimmy Clausen's share of Heisman hype? Doesn't Forcier's clutch touchdown pass in the closing seconds to force OT against the Spartans combined with his game-winner earlier in the season against Notre Dame, more than rival Clausen's late-game exploits?
Considering that Notre Dame pitched a 35-0 shutout at Nevada and Nevada blasted UNLV, 63-28, what would happen if Notre Dame played UNLV?
Couldn't you make a strong argument that now is not the time to bench Illinois quarterback Juice Williams? Doesn't it seem odd that on Saturday he finally threw his first touchdown pass and ran for his first score of the season, but gets pulled now? Was any thought given to the fact that he might be coming around?
For Virginia and Maryland, was it just a matter of waiting until October arrived? After having a horrid September, who would have thought that the Cavaliers would handle North Carolina so easily and the Terrapins would beat Clemson?
Is anybody else surprised that Auburn's offense, designed by coordinator Gus Malzahn, easily got the better of Tennessee's defense, schemed by coordinator Monte Kiffin? Would it be fair to say that a guy with tons of recent high school coaching experience smoked a guy with an extensive NFL pedigree?
I know this is beating a dead horse, but what was so excessive about Georgia wide receiver A.J. Green's celebration? How many times have you seen something much more excessive after a much less important touchdown?