This week's 18-unit curriculum is dedicated to the students of the University of California at Berkeley, who will now return to their normal activities at Doe Library and disregard any further nonsense going on at Memorial Stadium.
FOUR-UNIT COURSES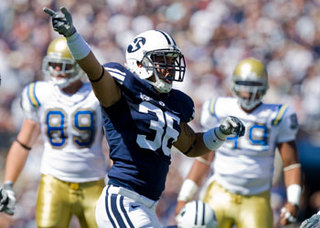 Criminal Justice: Methods of Research — On Aug. 29, BYU defensive back Shiloah Te'o (pictured) was arrested on suspicion of driving under the influence of alcohol. Within the hustle and bustle of Provo, the 20-year-old was somehow able to keep that occurrence under wraps, even after charges were filed on Sept. 18. Te'o has played in all five of the Cougars' games this season. BYU head coach Bronco Mendenhall finally got wind of the incident this past weekend and met with Te'o on Sunday. However, the player did not come clean. A couple days later — apparently they don't have phone numbers for the Provo police department or local courts readily available at the BYU athletic department, which is a good sign — Mendenhall finally was able to confirm what had happened and threw Te'o off the team, primarily for lying.
Introduction to Behavioral Science — A 22-year old University of Iowa student, Brittney Jane Mears, has been repeatedly harassing Hawkeye defensive end Adrian Clayborn in very odds ways. Her most recent poor decision occurred at last Saturday's Iowa home game against Arkansas State. She spent the first three quarters yelling at Clayborn from her first-row seat behind the home team benches at Kinnick Stadium. After being removed from the stadium for drawing "negative attention to herself," the woman explained to police that she was "distracted and annoyed" by Clayborn's actions during the game. Prior to this incident, the woman disregarded previous warnings about making contact with Clayborn, sending him lewd text messages and driving past his workplace while staring at him.
THREE-UNIT COURSES
Basic Data Analysis — The Gator Bowl announced on Wednesday that it will be dropping the ACC as a partner next year in favor of the SEC. Not a shock. But what is rather alarming is that SEC schools will now participate in three New Year's Day bowl games against Big Ten opposition. For those of you keeping score at home, that gives the SEC a three-to-one advantage in that regard over the Pac-10, which prides itself on its postseason relationship with the Big Ten. Being confined to the low-rent district of the postseason landscape is nothing new for the Pac-10. Outside of the BCS, this season's bowl lineup includes five SEC tie-ins for postseason games in the new year — Outback and Capital One on Jan. 1, and Cotton, PapaJohns.com and Liberty on Jan. 2. The Pac-10 has zero.
Sociopsychological Aspects of Sport and Physical Activity (real course at USC) — Since third-string quarterback Mitch Mustain's arm isn't contributing much to the USC football team, he's taking a look at baseball. The junior, who went 8-0 as a starter at Arkansas before transferring to USC in 2007, previously explored the possibility of punting for the Trojans. That never materialized (probably because Pete Carroll is in charge of all three phases of the USC football team), so now he's eyeing Chad Kreuter's needy baseball program. Mustain hopes to follow the path established by another seldom used Trojan quarterback, Matt Cassel, who stopped off at the Dedeaux Field mound before outperforming Matt Leinart in the NFL.
TWO-UNIT COURSES
Freshman Studies — Marshall athletic director Mike Hamrick has been living among the school's freshmen at South Residence Hall since taking the reigns of the Thundering Herd program in July. The 52-year-old will continue to live there through the end of the current semester when his wife completes her move from Las Vegas to Huntington. Hamrick has enjoyed the experience and says that he'll miss the students when he moves out. Interestingly enough, the lucky guy's room is on a female-only floor.
Sociological Inequality — Now that the full story of Condoleezza Rice's role as the big gun and closer in Stanford's recruiting efforts is out in the open, doesn't it seem incredibly unfair that the Cardinal will surely land all of nation's five-star prospects obsessed with international relations and right-wing politics. The rest of the Pac-10 better hope that another Bush gets back into the White House soon and Condi heads back to DC.