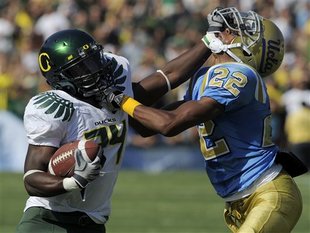 Zero … plus 24-10 loss at home … does NOT equal one.
But it did in the twisted mind of one coach who participates in the continuously cockamamy USA Today Top 25 Coaches' Poll.
UCLA (3-2, 0-2 in the Pac-10), which appropriately received absolutely no recognition in last week's "others receiving votes" section, apparently "earned" one point after self-destructing versus Oregon.
That's just one of the items in this week's "By the Numbers."
Click HERE to check them all out.