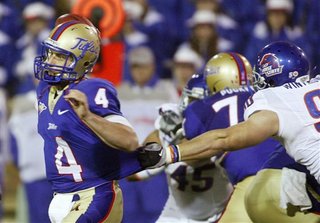 Poll voters have Ryan Winterswyk to thank. He's the Boise State defensive end who applied the pressure to Tulsa quarterback G.J. Kinne (pictured) that didn't allow him to set his feet and deliver an accurate pass to a wide open Charles Clay on a crucial fourth-down play within the final minute.
That incompletion wrapped up a 28-21 victory for the No. 5 Broncos over the Golden Hurricane in Tulsa on Wednesday night.
Now the voters have their excuse for not ever moving Boise State above their current position (No. 5 in AP Top 25 and Harris Interactive, and No. 6 in USA Today Coaches Poll). Not that they were ever going to do so anyway, but now they have their excuse.
And it's a good one.
Facing a team unanimously thought to be their toughest opponent for the remainder of the season, the Broncos didn't perform like an elite squad.
Preparation, travel and mid-season fatigue shouldn't have been issues as Boise State had 10 days to get ready for the trip.
Not being revved up for the game shouldn't have been a problem either. The Golden Hurricane entered the contest with a 4-1 record and Kinne was ranked seventh nationally in passing efficiency. Tulsa did absorb a 45-0 shellacking at Oklahoma, but it's a far cry from UC Davis, the Broncos' previous opponent. And this Hump Day affair was being played squarely in the national spotlight.
Oh well . . . it's no biggie if Boise State won by seven or 37.
After the Broncos took care of Oregon in the season opener, we knew they were already halfway home to an undefeated regular season. Now, they're physically there . . . and ranked as high as they were ever going to be ranked anyways.