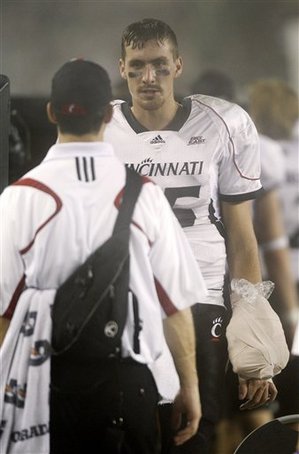 According to Cincinnati head coach Brian Kelly, Bearcat quarterback Tony Pike, who suffered an injury to his left arm during Thursday night's 34-17 victory at South Florida, will miss No. 8 Cincinnati's next game against Louisville on Oct. 24.
Pike's current injury relates back to a broken left forearm suffered last season. He actually played with that injury to his non-throwing arm last year after a plate and six screws were inserted, and his forearm was protected by a soft cast.
The metal plate, which is still in his arm, has reportedly "shifted."
Against the Bulls, Pike was initially injured late in the second quarter after being knocked to the ground by South Florida defensive tackle Aaron Harris. After being examined in the locker room at halftime, he returned to action with his left wrist wrapped.
On Cincinnati's first series of the third quarter, however, he re-aggravated the injury and left the game for good.
Backup quarterback Zach Collaros came on in relief with the Bearcats up, 17-10, and quickly gave his team a spark with a 75-yard touchdown run.
Collaros ran the football 10 times for 132 yards and added his second score on a three-yard run in the fourth quarter. He was 4-of-7 through the air for 72 yards and tossed one interception.
The Bearcats should be alright with Collaros at the helm against Louisville (2-3, 0-1 in Big East) and could probably go with someone even further down the depth chart and still win their next game after that at Syracuse (2-4, 0-2) on Halloween.
But Cincinnati, which remains in prime position to make a run at another Big East title and possibly have a shot at the BCS title, would really love to have Pike back for the first two weeks of November, which feature home games against Connecticut and West Virginia.