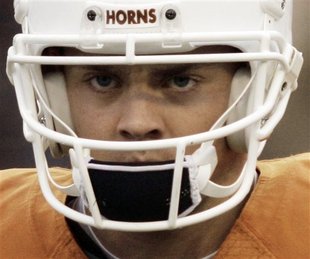 1. — It's not quite what we pictured in the preseason, but it's still a gigantic game. It always is when Texas and Oklahoma get down to business in Dallas. With a pair of one-point losses tagged to their backs, the Sooners don't share the BCS title aspirations that the Longhorns have, but they're still very much in the hunt for Big 12 honors and gunning for revenge. Yes, Oklahoma won the tiebreaker and conference championship last season, before playing for the BCS title, but the Sooners did lose to Texas. This time, Oklahoma would love nothing better than to short-circuit the Longhorns' postseason plans.
2. — Notre Dame hasn't beaten USC in seven years. The Irish haven't scored a touchdown against the Trojans since 2006. But it's still one of the premier rivalries in college football. Charlie Weis believes that this year will be different, saying that his team believes it can win this one. They'll have to in order to keep quarterback Jimmy Clausen's Heisman Trophy hopes alive.
3. — Georgia Tech's defense has been pillowy soft in the last two games, surrendering a total of 1,026 yards and 75 points. That's not the kind of habits you want to be forming when you've got Virginia Tech rolling into Bobby Dodd Stadium. Hokie quarterback Tyrod Taylor and running back Ryan Williams have been having All-America seasons, so it will all come down to how the Virginia Tech defense deals with the Yellow Jackets' hard-charging triple-option attack. If the Hokies can pass this test, they have clear sailing to yet another ACC Championship Game.
4. — Is this the week for Florida's annual loss to a member of the SEC West? Bobby Petrino and Ryan Mallett certainly hope so and will do their best to shock the world at The Swamp. It seems like a dangerous spot for the Gators, coming off the big win at LSU and two weeks of "Tebow Watch." The Razorbacks' aerial circus could pose some problems.
5. — Saturday's games will be the last bit of data used to spit out the first official BCS Standings on Sunday afternoon (sometime between 4 and 4:40 p.m. ET). We can't wait to see what wackiness results from the strange brew of the USA Today Coaches Poll, the Harris Interactive Poll and the computer indexes of Anderson & Hester, Billingsley, Colley, Massey, Sagarin and Wolfe. I wonder why they don't just keep the Harris Poll under wraps until this week as well. No one cares a bit about that darn thing until this week anyway.
6. — How often do you welcome an undefeated opponent to your campus for Homecoming? Probably not too often. But that's what Wisconsin has on its hands as No. 11 Iowa visits Madison. The Hawkeyes are 6-0 and own the nation's second-longest winning streak, which now stands at 10 games. That'll be on the line, along with the beautiful brass bull Heartland Trophy, which dates all the way back to 2004.
7. — Which gunslinger will get the nod from Mike Leach on Saturday at Nebraska? Will it be Taylor Potts, who started the first five games and passed for seven touchdowns in Week 2 against Rice? Or will he go with Steven Sheffield, who filled in for Potts (concussion) last week against Kansas State and threw for seven scores? Either one would be happy to get the assignment . . . until Cornhusker defensive lineman Ndamukong Suh makes his presence known in the Red Raider backfield. May the best man win the job . . . and survive.
8. — You'll be hearing the phrase "bowl eligibility" a lot this weekend. For the majority of the teams reaching that qualification in mid-October, it's an afterthought. Such is not the case for Idaho. The Vandals, who went 3-21 over the course of the past two seasons, are this year's surprise team with a 5-1 record, leading the WAC at 2-0. Idaho hosts Hawai'i on Saturday, hoping to take a huge step toward the Roady's Truck Stops Humanitarian Bowl, which makes a lot of sense since the Vandals are one of the few teams in the country that would be accustomed to the wonderful weather in Boise in late December.
9. — As if life wouldn't be tough enough for South Carolina quarterback Stephen Garcia as he takes snaps against Alabama's rugged defense, one of his starting offensive linemen, Heath Batchelor, left the Gamecock team on Thursday and Crimson Tide inside linebacker Jerrell Harris is done serving his six-game suspension for being less than truthful about a certain laptop computer. Garcia also won't get any support from running back Jarvis Giles, who has been suspended for the game by South Carolina for an undisclosed reason. Sucks to be Stephen.
10. — An old joke in the Big Ten is that Ann Arbor is a whore. Well . . . even if she is, she doesn't hold a candle to Delaware State. The Hornets (yes, I had to look that up) were supposed to be hosting North Carolina A&T on Saturday, but instead they'll be at the Big House pimping themselves out for $550,000 and forfeiting their MEAC game against the Aggies (yes, I had to look that up). How come the NCAA is so keen on making rules for everything, but this sort of travesty somehow is allowed? I'd like to know what the North Carolina A&T players have planned for this weekend. What a bummer it is for them to not be able to play football on Saturday.