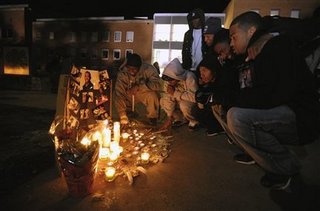 1. — Playing football for the first time since the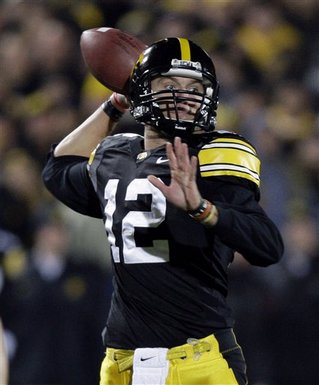 4. — Iowa, another undefeated team trying to break a four-game losing streak on an opponent's home field, will try to post the first 8-0 start in school history with a victory at Michigan State. The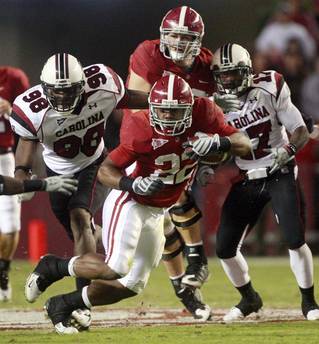 7. — Now that he's rumbled his way up near the top of the Heisman Trophy watch list, we'll get to see how Alabama running back Mark Ingram (pictured) performs in the blinding spotlight usually reserved for quarterbacks. If he can avoid the temptation to do too much and stick with his hard-charging style, he'll be just fine. Heisman voters won't be the only ones keeping close tabs on Ingram against Tennessee. Volunteer All-America safety Eric Berry figures to have him in his sights as well. Pads will be cracking all day long in Tuscaloosa.
8. — Many of the USC defenders that allowed Oregon State's Jacquizz Rodgers to roam free for 186 rushing yards in the Beavers' shocking 27-21 upset of the Trojans last year are now in the NFL. Their inability to locate and bring down the 5-foot-6 running back, who was then a freshman, was simply mystifying. The rematch at the Coliseum featuring USC's new defensive unit should be interesting. Perhaps the Trojans are too concerned about forcing a fumble rather than just tackling the sure-handed Rodgers.
9. — Can Blaine Gabbert shake off his nagging ankle injury and return to the form he exhibited at the beginning of the season? Texas and its rugged defense provide the opposition this weekend, so the challenge is monumental, especially if the Tigers can't find a way to get their running game going. The Longhorns have been incredibly successful at stonewalling opponents on the ground and teeing off on would-be passers. Texas quarterback Colt McCoy has issues of his own with a bruised soon-to-be-nailless right thumb, but should post more Heisman-worthy numbers. In the end, Missouri will likely be the nation's best team that's 0-3 in conference play.
10. — Since BCS No. 4 Boise State will lose ground after pounding the poi out of Hawai'i in Saturday's nightcap and No. 5 Cincinnati won
't pick up many percentage points by beating lowly Louisville, the expectation is that No. 6 Iowa could make a move up the BCS Standings if it can impress the human polls with a convincing win at Michigan State. Similarly, No. 8 TCU has the opportunity to make a leap if it can conquer No. 16 BYU in Provo. With all that said, nothing ever goes according to plans in college football. Where will the monkey wrench come flying in from?