In the span of 12 days, Virginia Tech has gone from being a legitimate BCS title contender to an ACC Coastal Division also-ran. Simply amazing.
The Hokies' previous loss, a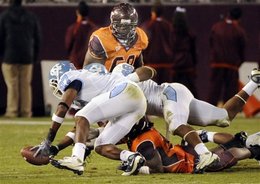 While many will focus on freshman running back Ryan Williams' crucial fumble (pictured) with two minutes remaining, the blame should be placed squarely on the shoulders of the Hokie defense . . . again.
On Oct. 17 against the Yellow Jackets' triple-option attack, it was somewhat understandable that Virginia Tech melted down the stretch, allowing 272 rushing yards in the second half. But surrendering 181 yards on the ground to the Tar Heels at Lane Stadium is totally different.
North Carolina, which hadn't beaten a ranked opponent on the road since 2001, entered the game ranked 85th in rushing and 114th in total offense.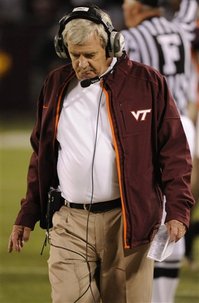 Further illustrating the woes of Frank Beamer's defense, UNC was 10-of-19 on third down and easily converted on a fourth-and-seven late in the ballgame with a routine 19-yard pass from quarterback T.J. Yates to wide receiver Greg Little.
Poor ACC. Already surely saddled with a championship game featuring only one ranked opponent, what's next?
Hmmm . . . the last time that happened was in 2005 when an 8-4 Florida State squad held on to upset No. 5 Virginia Tech, 27-22, in the inaugural ACC title game.
That sort of thing rearing its ugly head once again would be an appropriate capper to the type of season it has been up and down the Atlantic Coast.