They don't have a game to prepare for this Saturday, but we sure hope the Stanford Cardinal got a lot of good work in this week.
After taking this weekend off, Stanford (5-3 overall, 4-2 in the Pac-10) finishes the season with a fearsome foursome. In consecutive weeks, the Cardinal will face a gauntlet of teams currently in the BCS Standings: No. 10 Oregon, No. 5 USC, No. 24 California and No. 23 Notre Dame.
Stanford, which needs at least one victory in those November games to become eligible for the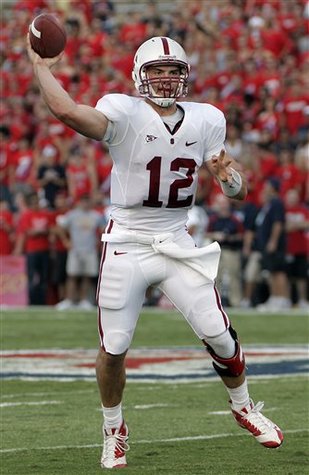 Yup . . . in case you haven't heard, Stanford redshirt freshman Andrew Luck (pictured) is the top signalcaller in the land . . . at least according to his head coach Jim Harbaugh, who recently said: "I think Andrew is the best quarterback in the country. I've not seen a better one."
After someone pointed out that Tim Tebow and Colt McCoy are among several standouts who play the same position as young Mr. Luck within the boundaries of the United States (not to mention Matt Barkley and Jimmy Clausen, with whom Luck will go head-to-head against shortly), Harbaugh didn't back down, repeating: "I have not seen a better quarterback out there."
That's great Jim. With that kind of advantage under center, we expect to see you take three of your last four.
We'll be watching.
Good luck (adjective and pun intended).