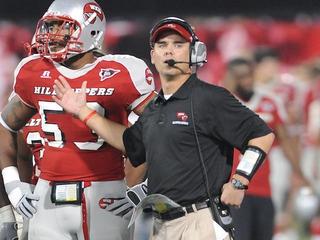 No. -10 The Oh-for-Nines . . . Eastern Michigan, Rice, Western Kentucky and New Mexico are all still streaking toward perfection! Eastern Michigan made quick work of itself in a 50-6 loss to Northern Illinois. Rice actually held a first-quarter lead at SMU, before handling its business and losing 31-28. Western Kentucky embarrassed Troy, trailing by just a point at halftime, but eventually got doubled up, 40-20, and finally got head coach David Elson (pictured)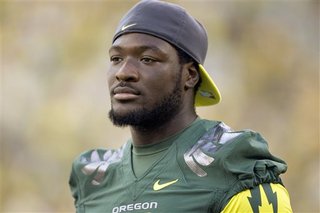 No. -6 The reinstatement of LeGarrette Blount . . . Everyone was in full agreement over the season-long suspension handed to the Oregon running back, who coldcocked Boise State defensive end Byron Hout in addition to other acts of mayhem following an embarrassing season-opening loss to the Broncos. We didn't hear any opinions to the contrary when that whole thing went down. Therefore, it has to make this list when Blount is back for the final three games of the regular season and possibly the Rose Bowl. Time usually heals all wounds in this forgiving society and that's a good thing, but the revision of the original decision is fundamentally weak.
No. -5 Wyoming . . . The Cowboys experienced their worst loss since 1985 last Saturday, getting blown up by BYU, 52-0, in Laramie. It was Wyoming's second shutout loss in its current three-game slide. The Cowboys' new head coach Dave Christensen, who was previously the offensive coordinator at Missouri, doesn't seem to have many answers. Wyoming has beaten three FBS teams this season, but the combined record of those teams (UNLV, Florida Atlantic and New Mexico) is 6-21.
No. -4 SEC officials . . . Yes, it's the same old story every week and we're tired of it too. But these guys are so crooked we can't ignore them even though we desperately want to. The shameless way they denied LSU cornerback Patrick Peterson his fourth-quarter interception boggles the mind. The officials on the field thoroughly botched the call, not making a decision immediately and then were unable to fully communicate to the crowd what they had determined before turning it over to the replay officials upstairs. The bozos in the booth fouled things up even worse, somehow discounting clear evidence, showing that Peterson did indeed have possession of the football while having, not just one, but two feet inbounds. At this point, we are left to assume that the SEC may eventually resort to shaving points off the scoreboard when nobody's looking if a game might somehow jeopardize a $17 million check.
No. -3 USA Today Coaches' Poll . . . Enough is enough. Make the ballots public (like the AP Top 25), so that we can see all of the idiots coaches who contributed to USC (No. 10) being ranked six spots ahead of Oregon (No. 16), which destroyed the Trojans, 47-20, two weeks ago in Eugene. We're aware that the BCS Standings, Harris Interactive Poll and AP Top 25 also got those two Pac-10 teams mixed up by four, four and three spots, respectively (No. 9 USC, No. 13 Oregon; No. 10 USC, No. 14 Oregon; No. 11 USC, No. 14 Oregon). But at least we're able to identify the dopey media people who voted that way and we know the BCS computers didn't stay up late to see how horrible the Trojans looked during their dreary 14-9 victory at Arizona State last Saturday night.
No. -2 Notre Dame . . . Absorbing an embarrassing upset at home doesn't get you a free pass into this ranking of the truly rank. If it did, we wouldn't have weekly room for the latest crime committed by shady SEC officials or clueless poll voting coaches. What does automatically qualify a team for inclusio
n are instances when a service academy openly treats a tradition-rich national power as "just another team." Navy did just that last weekend, walking into Notre Dame Stadium like it owned the place and waltzing out with a routine victory. As long as bowling over the Fighting Irish in South Bend is far easier than beating Temple in Annapolis, Charlie Weis' boys have a spot reserved here.
And finally, the absolute "Worst of the Weak" . . .
No. -1 Michigan . . . Easily retaining the top-ranking they earned last week, the Wolverines are now a lock to go bowl-less for the second year in a row thanks to their loss at home to lowly Purdue last Saturday. Michigan hasn't beaten a FBS team since September, and that was Indiana, so that barely counts as its only Big Ten victory. Allowing the Boilermakers to rack up 38 points and 494 total yards was absolutely incomprehensible. In a 37-0 loss at Wisconsin the previous week, Purdue gained only 141 yards. Since we already know that defensive coordinator Greg Robinson (pictured) is done in Ann Arbor, where is he going to get fired from next year?