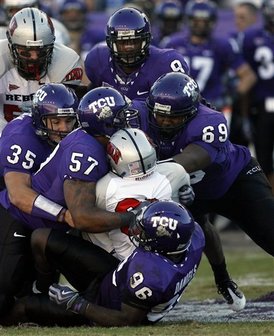 1. — TCU wasn't able to throw a monkey wrench into Utah's undefeated season last year, missing a pair of fourth-quarter field goals and allowing the Utes a last-minute touchdown in a 13-10 loss in Salt Lake City. This time around in Fort Worth, the Horned Frogs are the ones protecting a spotless record and BCS dreams. TCU, which is perhaps the most well-rounded team in the nation, is the clear favorite and could turn the game into a landslide if Utah freshman quarterback Jordan Wynn can't handle the various scheme disguises and blitzes that the TCU defense will confront him with in passing situations.
2. — Who says the Big Ten doesn't have a championship game? Iowa's visit to Ohio State on Saturday is just that. This winner-to-the-Rose-Bowl game would be much more interesting if Hawkeye freshman quarterback James Vandenberg wasn't standing in for injured starter Ricky Stanzi, but Iowa, which has proven its resilience several times this season, shouldn't be discounted.
3. — If Notre Dame beats Pittsburgh — and that's a huge if — it would be the most impressive win in Charlie Weis' five seasons on the job. That sort of victory on the road against a team ranked No. 8 by the AP would provide some momentary relief from the mob seeking his ouster, but just the idea that it would be such a big deal is an indictment of Weis. Isn't the fact that he hasn't yet beaten a team that's finished a season with three or less losses during his entire stay in South Bend reason enough to send him out the door with a gigantic check.
4. — The big boys — Florida, Alabama and Texas — are all heavy favorites, but as we all know . . . upsets happen. Avoiding those treacherous banana peels can be especially tough on the road, which is where all three will be. The top-ranked Gators have to fend off one of their own as alum Steve Spurrier has plans to be a rude host at Williams-Brice Stadium. Mississippi State, which will host the Crimson Tide after having last week off, beat Alabama, 17-12, in its last visit to Starkville in 2007, so keep an eye on the Bulldogs. Of this "Big Three," the Longhorns should have the easiest time as they take on Baylor, which is down to its third-string quarterback and has lost 11 in a row to Texas.
5. — It's a huge weekend for bowl eligibility in the Big Ten. Michigan State, Purdue, Michigan and Minnesota all need victories this weekend to qualify for post season play. Either the Spartans (5-5) or Boilermakers (4-6) will get that done because they're going head-to-head in a "play-in" game of sorts. Technically, Michigan State would have another shot if it lost to Purdue, but the Spartans have Penn State coming to town next week, so they need this one just as bad as the Boilermakers, who wrap up the regular season at Indiana. While the Wolverines (5-5) have to beat Wisconsin (or Ohio State next week), all the Golden Gophers (5-5) have to do is slay South Dakota State. Indiana (4-6) and Illinois (3-6) also would require victories on Saturday to keep their bowl hopes alive, but we've already counted them out.
6. — Tennessee has been a constant presence in the news in the last couple days and unfortunately for the Volunteers it doesn't have anything to do with Lane Kiffin's mouth or his team's impressive play in its last four games. They'll actually be pleased to get out of town this weekend, but will they have enough focus to effectively deal with an Ole Miss squad that's eager to take out its frustrations on somebody?
7. — Georgia Tech and Clemson both have an opportunity to book their trips to Tampa for the ACC Championship Game. The Yellow Jackets merely have to beat Duke to wrap up the Coastal Division. Meanwhile, the Tigers have to win at N.C. State and hope that Boston College stubs its toe at Virginia. If the Cavaliers aren't up to the task, then Clemson can claim its first Atlantic Division title with its own victory over Virginia at home next week.
8. — They say lightning doesn't strike twice, but Stanford will try anyway as it visits the L.A. Memorial Coliseum for the first time since its shocking 24-23 upset of 41-point favorite USC in 2007. If the Cardinal are able to do it, they'd be the first team to ever beat Pete Carroll's Trojans in the month of November. Twenty-eight others have tried and failed.
9. — Is it really possible that Georgia could be a .500 team this season? Just a year ago, the Bulldogs were the nation's preseason No. 1, but they've steadily slipped since then. If Georgia doesn't beat Auburn on Saturday in Athens, it'll get another chance to get bowl eligible next week against Kentucky, but at that point, Mark Richt will have to find a way to win at Georgia Tech to avoid the indignity of a 6-6 campaign.
10. — Five teams are still in contention for the Conference USA East Division title. At 4-1 in league play, East Carolina is a game up on the other four contenders and has the unique opportunity to see how everything plays out on Saturday before kicking off at Tulsa on Sunday. Marshall and Southern Miss will go toe-to-toe in Huntington. Central Florida figures to have a tough time at home with West Division leader Houston. And UAB is at Memphis, which is the only member of the East already eliminated.