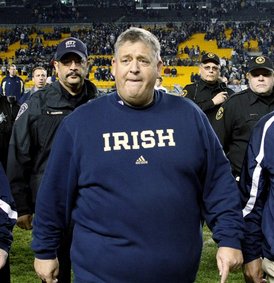 0 — Percent chance that Charlie Weis keeps his job at Notre Dame. Zero also corresponds to the number of big wins he's had as head coach of the Fighting Irish. The school's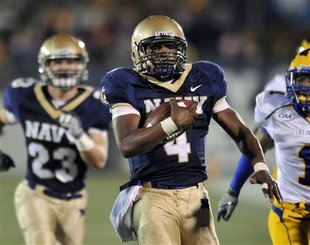 22 — Rushing touchdowns this season by Navy junior quarterback Ricky Dobbs (pictured), breaking a school record that had stood since 1917. He ran for all five of the Midshipmen touchdowns in last Saturday's 35-18 victory over Delaware.
27 — Points Stanford led USC by with 6:47 remaining (48-21), when Cardinal head coach Jim Harbaugh decided to go for a two-point conversion. Hey coach, what's your deal?
28 — Consecutive bowl seasons for Florida State if the Seminoles can notch victory number six on Saturday versus Maryland.
29 — Seasons as a college football head coach for Dick Tomey, who announced on Monday that he will hang up his whistle after San Jose State's season finale against Louisiana Tech on Dec. 5. Before taking over the Spartan program in 2005, he coached 10 seasons at Hawai'i (1977-86) and 14 seasons at Arizona (1987-2000). Tomey, who is also the president of the American Football Coaches Association, currently has a grand total of 182 career victories.
41 — Total tackles made by USC's four starting defensive backs in Stanford's 55-21 victory over the Trojans last Saturday at the Coliseum. Pete Carroll's front seven have yet to be located.
61 — Age of Austin College kicker Tom Thompson, who booted an extra point last Saturday afternoon against Trinity University, becoming the oldest player in college football history. His PAT tied the game at 7-7 early in the second quarter, but everything went downhill from there for the Division III Kangaroos, who lost 44-10. And you thought the soccer player who kicked the winning field goal in Ohio State's 27-24 overtime victory over Iowa was old.
90 — Boise State victories since the start of the 2002 season, which is the most by an FBS team. Thanks to Oregon and Stanford the Broncos, have finally moved past USC, which has 89 wins during that same span. Texas is third with 87, and Ohio State and Oklahoma are tied with 85.
170 — Return yards for North Carolina junior cornerback Kendric Burney on his three interceptions in last Saturday's 33-24 upset victory over Miami (Fla.). His return yardage, which featured a 77-yarder back to the house, established a new ACC record.
174 — Points allowed by USC in its last five games.
177 — Points allowed by USC in the 19 games prior to the five-game span mentio
ned above in "174."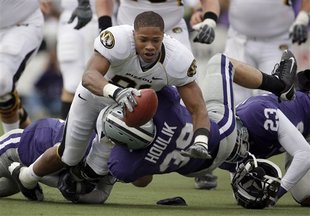 414 — Receiving yards by Missouri senior wide receiver Danario Alexander (pictured) in his last two games. Last Saturday, he caught 10 passes for 200 yards and three touchdowns at Kansas State, a week after snagging 13 receptions for 214 yards and one score versus Baylor.
7,626 — Career all-purpose yards by Western Michigan senior running back Brandon West, which represents a new FBS record, surpassing the old mark of 7,573 set by Memphis' DeAngelo Williams in 2005. West has at least one more game to add to his total. And if the Broncos can beat Ball State next Tuesday, they'll become bowl eligible and might be able to worm their way into the Humanitarian Bowl.
18,000,000 — Dollars reportedly involved in Weis' buyout clause at Notre Dame. I guess the old saying "you get what you pay for" doesn't always apply.