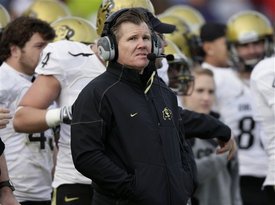 Colorado head coach Dan Hawkins seemed to have little interest in keeping his job on Thursday night in Stillwater. He was strangely all smiles after the final gun sounded on Oklahoma State's 31-28 victory, shaking hands with Cowboy players and eventually his counterpart, Mike Gundy.
No matter what Hawkins says, there was no good reason for keeping the offense on the field on fourth-and-two from the OSU 28-yard line, while leading 21-17 with 13:05 remaining.
We realize that Buffalo kicker Aric Goodman had missed a 49-yarder less than two minutes earlier and was 3-of-8 from beyond 40 yards coming into the game, but that attempt banged into the right upright three-quarters of the way up. If Hawkins was willing to let him try that one, Goodman deserved another chance from 45 yards out to put Colorado up seven points.
(Memo to Hawkins: If the kid misses another one and you lose, it's his fault. If you don't send him out there again, don't convert and lose by seven, it's on you.)
Instead, Tyler Hansen's fourth-down pass fell incomplete and five plays later, Cowboy running back Keith Toston bolted for a 47-yard touchdown to wipe out Colorado's 11-point halftime advantage and give Oklahoma State its first lead of the second half.
Brian Lockridge gave Hawkins a momentary reprieve on the ensuing kickoff, taking it all the way back for a 98-yard touchdown, giving the Buffs a 28-24 lead with 11:11 left.
But three minutes later, Cowboy third-string quarterback Brandon Weeden threw a 28-yard touchdown pass to provide the winning margin and keep Oklahoma State's BCS hopes alive.
Never mind that OSU star quarterback Zac Robinson didn't play a single down or that Alex Cate, who started in his place, didn't complete any of his nine pass attempts and was lucky he was intercepted only once in the first half. If the Buffs could have kept the momentum and held off the Cowboys, it would have went in the books as a victory over the 12th-ranked team in the country on the road and one of the only feathers in Hawkins' Colorado cap.
At this point, not even a massive upset of Nebraska at Folsom Field next week would be enough to save his job. Administrators will be too busy raising the $2.5 million for the buyout to even notice.