After a brief tenure of one-plus season pooping on roaming the Georgia sidelines, the football program's mascot Uga VII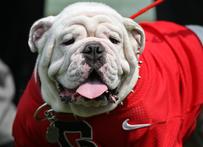 From the Journal-Constitution:
Uga VII, named "Loran's Best," made his sideline debut on Aug. 30, 2008 in the Bulldogs' game vs. Georgia Southern. He compiled a record of 16-7 during his tenure, the shortest for any in the Uga family.

Since 1956, the University of Georgia's mascot has come from a line of solid-white English bulldogs named Uga, owned by Sonny and Cecelia Seiler of Savannah.

The previous University of Georgia mascot, Uga VI, died June 27, 2008.