Simply put, Eric Berry is one of the best collegiate football players in the country. Not just one of the best defensive players, mind you, but one of the best players, period.
As a junior, Berry will have a decision to make once the clock strikes twelve on the 2009 season: stick around for his senior season, or take the leap into early entry and make himself available for the 2010.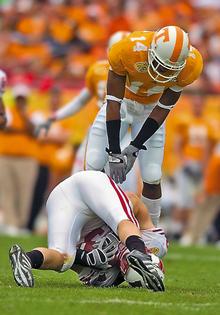 The Tennessee safety seemed to hint, though, that his "family situation" may have him leaning toward coming out.
"It is a very tough decision to make, and it's just so hard because you know if you stay in school you can go ahead and get that degree out of the way, you've got all these fans that love you," Berry said. "We've got all these NFL coaches on our team and they always tell us that on the next level it's not going to be the same. You're not going to have the fans like this, you're not going to have support like this. That's always in the back of my mind at times.
"But I know my family situation, I know what they're going through, and it's really hard to figure out what you want to do."
That being said, it would be an absolutely stunning turn of events if Berry remained at Tennessee.
He's a consensus Top-Ten pick in the draft; in most cases, he's top five, with a good chunk of those being in the top three in the draft.
Unless you're Sam Bradford, you just don't throw that kind of money away, regardless of how much fun you may be having living the collegiate life.