Citing a source with knowledge of the decision, the Associated Press is reporting that Western Kentucky has hired assistant Willie Taggart as their new head coach.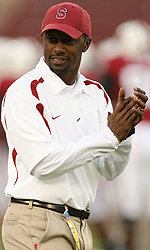 A press conference officially announcing the hiring is expected to take place later today.
Taggart, in his third season as the Cardinal running backs coach, played and coached for the Hilltoppers from 1994 through 2006 before joining Stanford's coaching staff. At the end of his playing career with the Hilltoppers, Taggart was the all-time leading rushing quarterback in Div. 1-AA history with 3,997 yards.
Taggart will replace David Elson, who was fired on Nov. 9 but agreed to remain the coach through the rest of the 2009 season.
The long-time assistant has a lot of work ahead of him as Western Kentucky is currently in the midst of an 18-game losing streak, which is the longest in the nation. 2009 was the Hilltoppers' first season as full-fledged members of Div. 1-A football.