For the first time in a long time, Georgia did not have one of their beloved bulldog mascots on the sidelines for their win over loss to Kentucky last weekend.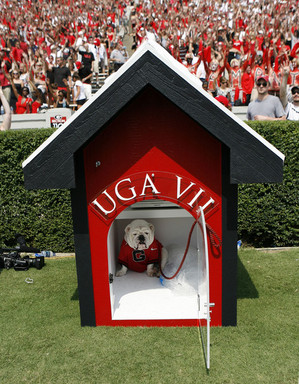 For their game with in-state rival Georgia Tech Saturday night, however, they will have an interim mascot roaming the sidelines in place of Uga VII, who passed away late last week because of a heart-related issue.
Here's the press release from the school announcing the temporary replacement for the regular-season finale and, possibly, the Bulldogs' bowl game.
"Russ", the five-year old half brother of Uga VII, will serve as the Georgia Bulldogs¹ mascot for the game against Georgia Tech onSaturday in Atlanta.
Russ may also serve as the mascot in Georgia¹s bowl game but will not be next in the line of permanent Uga mascots. Uga VIII will not be selected until sometime after the first of the year.
The most famous previous substitute for a game was "Otto" who in 1986 served four games for his younger brother, Uga IV. Uga IV had injured ligaments in his left hind knee prior to the 1986 game with Vanderbilt. Otto led the team to a 3-1 record and also served as co-mascot (along with Uga IV) in a victory over Georgia Tech.