0 — Days spent as a head coach by Jimbo Fisher (pictured) until after Florida State's bowl game. We find it amazing that so many pushed so long and so hard for
6 — Runners who have gained 102 or more yards on the ground against Notre Dame in its last four games. Stanford tank Toby Gerhart (pictured), who went for 205 yards and three touchdowns last Saturday versus the Irish, is the latest. He was preceded by Connecticut's Jordan Todman (130) and Andre Dixon (114), Pittsburgh's Dion Lewis (152), and Navy's Vince Murray (158) and Ricky Dobbs (102).
7 — Career touchdowns off a kickoff return for Clemson superstar C.J. Spiller, which is a new Division I-A record. He established the mark on an 88-yard return to open last weekend's 34-17 loss at South Carolina. It was actually return number two for Spiller in that game. He was tackled at his own 25-yard line on his first effort, but an offsides penalty against the Gamecocks forced a re-kick. Unfortunately, for the Tigers, Spiller's longest run from scrimmage was just five yards, as he finished with 18 yards on nine carries.
9.9 — Yards per pass attempt by Houston in its 73-14 victory over Rice last Saturday. That adds up to a lot of yards when you toss the ball 47 times. Three different Cougar quarterbacks completed 36 of those passes for 463 yards and surprisingly only three scores.
16 — Conference games between Al Groh being named the ACC Coach of the Year in 2007 and getting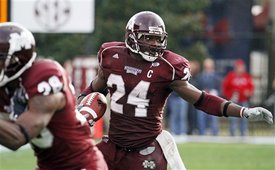 126.5 — Average rushing yards per game for SEC rushing champ … Anthony Dixon (pictured) of Mississippi State. The senior, who will not play in a bowl game for the 5-7 Bulldogs, finished just six rushing yards shy of 4,000 for his career and scored a total of 46 touchdowns.
4,500,000 — Dollars the Big 12 stands to gain if Nebraska beats Texas.