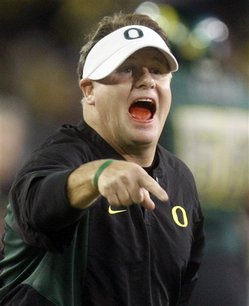 If Chip Kelly isn't the "Coach of the Year," they should just stop giving out the award.
We realize that there's a long list of worthy candidates out there, but none of them can compare to what Kelly has accomplished with Rose Bowl-bound Oregon this season.
Thirteen Thursday nights ago, the Ducks were dead. They were golden brown and orange, hanging by their necks in that Chinese restaurant on the corner.
In his first game as Oregon's head coach, Kelly was entrusted with the No. 16 team in the country. His Ducks were ranked behind two other Pac-10 teams (meaning they were projected to be Sun Bowl-bound), but there were still high hopes in Eugene.
Then, after the first 60 minutes of football and a few seconds afterward, the "Chip Kelly Era" was dead on arrival.
Oregon fell flat on its face in a 19-8 loss at Boise State in the prime-time spotlight of the national lid-lifter, unable to gain a measly first down until midway through the third quarter.
Then came the capper, star running back LeGarrette Blount landed a sucker punch to the jaw of a Bronco player after the final gun that resulted some severely ugly television and a season-long suspension (which really wasn't). Blount became a YouTube sensation and the Oregon football program was nothing but a big black eye.
Remember … all of this occurred during Kelly's maiden voyage into the world of collegiate head coaching. He responded with an empty deer-in-the-headlights gaze.
There was seemingly no road back. And even if there was, it was clear that the rookie coach wasn't the guy to get them there. He was apparently a big part of the problem.
As hard as it must have been to get his players to believe that there was still some promise in the season, it must have even been harder for Kelly to get himself to believe what he was saying.
But against all odds and within an extremely competitive conference, Kelly brought the Ducks back. All the way back. All the way to Pasadena, after registering a thrilling 37-33 decision over arch-rival Oregon State in the "Civil War/Pac-10 Championship Game."
And thank goodness.
For the first time in the last four years, a Pac-10 team is happy about going to the Rose Bowl.
How refreshing is that?