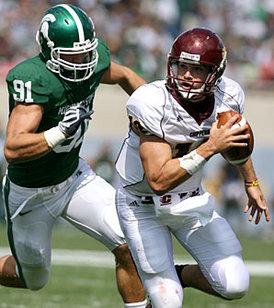 How amazing is Central Michigan quarterback Dan LeFevour? With tonight's MAC Championship Game versus Ohio and a bowl game still to be played, what will he add to his career totals that already inlcude 15,140 yards of total offense and 146 touchdowns accounted for (99 passing, 46 rushing, one receiving)? (Tim Tebow you ask? He's at 11,389 yards and 140 touchdowns.) Did you know that LeFevour is the first player in college football history to pass for more than 12,000, while also rushing for more than 2,500?
What are the odds that Florida and Alabama play another classic to match last year's SEC title game? Or, as is usually the case, will the actual game not live up to the hype?
Don't you wish you could switch your TV to an "all 22" full-field angle during the SEC Championship Game so that you can witness the game within a game between Alabama wideout Julio Jones and Florida cornerback Joe Haden?
They way things have been going for the last five years, how about allowing the Big 12 North Division champion to draft one player from each of the other five teams in the division to make the title game against the South's representative a little more interesting?
But with that being said, is Texas ready to play some defense after allowing Texas A&M to do as it pleased last week?
Of the three major conference title games, is the ACC's Clemson-Georgia Tech matchup the only one in which you can truly say that the league title is the primary focus? Don't you get the feeling that these conference championship games have been marginalized into BCS play-in games? Won't it be fun to watch one team in Tampa be truly excited about winning its first conference crown in a long time (with the BCS berth that comes along with it just being the cherry on top)?
Who does the scheduling for the Big East Conference? Does that person have a crystal ball or something to successfully create these "championship game" matchups during the final week of the season?
How much of a distraction will it be for Cincinnati that their coach is halfway to South Bend?
How much will Toby Gerhart's Heisman Trophy hopes be hurt by the fact that he won't be playing on the weekend before ballots are due? Or is his candidancy already dead due to the leaky Stanford defense that allowed 139 points in the Cardinal's four losses? Will the Heisman ever be able to separate itself from team success? (I can answer that … no.)
Without bowl games to play, is this the last weekend of college football for Illinois WR Arrelious Benn and Washington QB Jake Locker?
How come we haven't heard the names Tommy Tuberville and Phil Fulmer mentioned more in connection to some of these head coaching jobs that are opening up all over the country? And what about Gary Barnett?
If they lose to Arizona on Saturday, wouldn't it be fun to see USC play in something called the San Diego County Credit Union Poinsettia Bowl? Would the Trojans actually put those flowerly SDCCUPB patches on their jerseys? Would they play the game with ski masks on under their helmets?
What's the Hawai'i Bowl without Hawai'i? Do the Wisconsin Badgers have any idea what they're in for tomorrow night?
And regarding last night's classic "Civil War" …
Will watching Oregon's 5-foot-11 quarterback Jeremiah Masoli run over defenders ever get old? (Absolutely not.)
How amazing is it that TCU was the only team in Texas to offer a scholarship to running back LaMichael James out of Liberty-Eylau High School in Texarkana, Texas?
Inch-for-inch, who's a better football player than 5-foot-6 Jacquizz Rodgers?