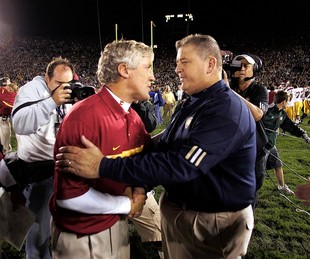 Since he's in the market for a new job, maybe Charlie Weis should work here at CFT's "Latest News & Rumors."
He certainly has some juicy stuff on his mind.
Apparently too juicy, as censors seem to be hard at work.
On Saturday, the former Notre Dame head coach sat down with five reporters for his first interview since being fired on Nov. 30.
Tim Prister of IrishIllustrated.com was one of the writers on hand and reported more than