For the Indiana Hoosiers, the 2009 season ended against bitter in-state rival Purdue University. The Old Oaken Bucket, the trophy prized by both schools in their rivalry match-up, remained with the Boilermakers after the Hoosiers fell 38-21.
Against Purdue, senior Matt Mayberry concluded his career with one of his most outstanding games. The Hoosier linebacker finished with nine tackles and two sacks. Still, the loss in his final game capped a season of disappointment.
"We did not execute," Mayberry said during a phone interview this month, "we were never fully satisfied."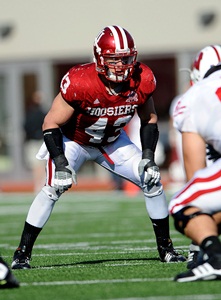 The Hoosiers struggled to find their form this season and ended with seven losses in the final eight games. "The results were not quite what we were looking for," Mayberry said.
Mayberry finished as one of the most accomplished linebackers ever to play at Indiana. Blessed with top-level speed for the position, he ended his senior campaign with 108 tackles, 11 tackles for loss, and 5.5 sacks.
"I have good speed for a linebacker," Mayberry said. "The coaching staff utilized my abilities to get after the quarterback."
Adding in his senior totals, the linebacker ended his IU career with 251 tackles.
Much of his success was due to his summer regimen working out with Kevin Kasper. The former NFL wide receiver/returner is known for his speed training and Mayberry looked to Kasper to maximize his potential.
"Kevin knows his training. It was a privilege to work with him. He took me under his wing." Mayberry added, "He is a NFL veteran, so when he says something, you listen."
The Hoosier completed a battery of exercises including several focused on making him more explosive, a trait that is vital for linebackers looking to make the transition to the pro game.
And the pro game is indeed where Mayberry intends to end up, like his mentor Kasper. Mayberry is beginning to analyze his choices for where he will train prior to the 2010 NFL Draft.
"Nothing is finalized, but there are a lot of great facilities across the country."
With his sideline-to-sideline speed, Mayberry should be satisfied come April where he is projected to be selected at the NFL Draft.
[Editor's Note: This post was actually written by Sean Grybos. John Taylor — henceforth known as "The Idiot" — forgot to switch authors before apologizing. The Idiot apologizes for any confusion this may have caused.]