It's been quite a few hours since we've updated you on Lane Kiffin's quest to be named the Sexiest Woman Alive by Esquire, and for that we apologize.
In all honesty, though, there's not a lot to report as the Southern Cal head coach is kicking some serious estrogen-laden ass. Here's the latest screen snap of Kiffin's tilt with LPGA star Natalie Gulbis: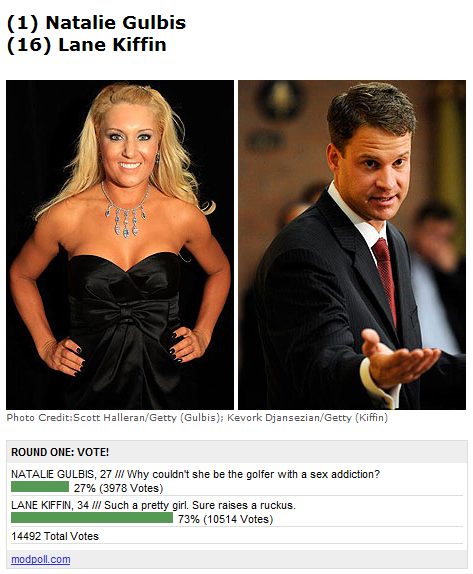 (I have to agree with a comment from an earlier post: WTF is up with the pic for Gulbis? She looks like a construction foreman all gussied up for a night on the town. Or a longshoreman. One of the two.)
If Kiffin can manage to hang on to his seemingly insurmountable lead, he would face Internet goddess Erin Andrews — who's busy putting her first-round boot to the face of Danica Patrick — in a second-round match-up for the ages.