In the 72 hours or so since Lane Kiffin
Ever the gentlemen — albeit a gentlemen oozing an estro-sexual look not seen in college football since… well… ever — Kiffin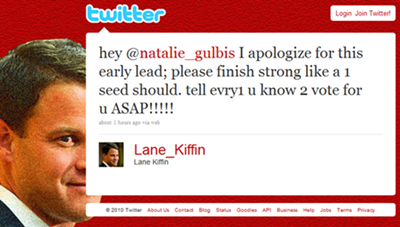 Yeah, nice try, Lane. Quality, respectful apology on all fronts.
But we're not buying it.
Try to lull your enemies into a false sense of security all you want, but we know you can smell this, feel this. Victory is well within your grasp,
Grab that tiara, and hightail it down the runway like you stole it.
UPDATE 8:58 a.m. ET: Kiffin continues to hold a solid lead over Gulbis, pulling in 43,809 votes to the golfer's 31,452.
Good job, Coach Kiffin. We're all very proud of you.