Our "beloved" patriarch Mike Florio hated it at the time —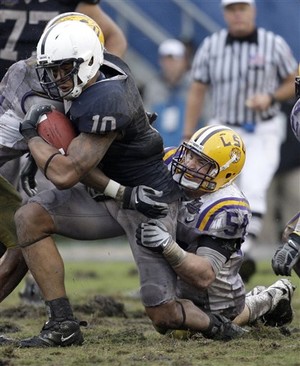 There were muddy uniforms (gasp!) and clods of Citrus Bowl turf jammed into the facemasks of various players (shudder!) and less-than-ideal conditions that could've led to injuries (No way! On the gridiron?), with the bowl game taking on the look of a time when men were men and football was football (too much?). The field was a muddy, sloppy mess, but, again, it was a beautiful thing compared to the pristine conditions every. single. stadium. strives for these days.
Unfortunately — or fortunately if you are into the pristine — we won't see that sight again at this particular venue.
According to the Orlando Sentinel, the Citrus Bowl is officially moving forward with plans to replace the real grass with artificial turf — i.e. field turf. It's estimated that it will cost $1 million to replace the old and install the new, with that coming as part of a $10 million "renovation" of the Orlando facility.
"That showed why field turf is a good idea," city mayor Buddy Dyer said. "We'll never be confronted by the problem we had at the Capital One Bowl."
Yeah, heaven forbid players walk off the field after playing sixty minutes of football with grass stains on their uniforms. What a sobering world that would be.