For the fourth time since it was installed in 1986 — this time courtesy of customer complaints — the blue turf at Bronco Stadium will be the subject of an upgrade.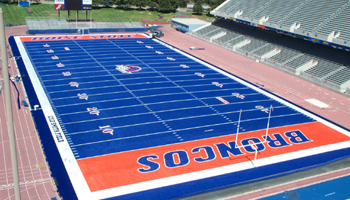 According to the Idaho Statesman, Boise State fans have been complaining about the glare coming off the "Smurf Turf" since 2008. As the school embarks on a season that could wind being a historic one, they will have a new blue hue to their playing surface.
Beginning on June 21, and scheduled to end in late July, the FieldTurf company will begin the process of ripping up the two-year-old turf and installing a new surface, one that will apparently result in the fibers with a reflective glare being done away with.
Boise State athletic director Gene Bleymaier told the Statesman that "FieldTurf was very understanding of the problem and wanted to make it right."
Part of the way for making it right, aside from the fix itself, is that the company will be doing the makeover at no cost to the university.