Simply put, there's no excuse for what's happened over the past six days.
Lane Kiffin came into the Sassy Sixteen of Esquire.com's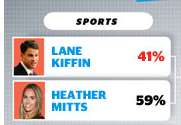 Sure, this Cinderella run from a No. 16 seed will end sooner or later. Just don't allow it to be right now, in this round.
Given his performance thus far, against monumental odds and with his back up against an estrogen-laden wall, Kiffin deserves a much better fate than to be on the precipice of defeat.
It's not only the right thing, it's the just thing.
As an aside, and absolutely apropos of nothing, God invented Chrome's incognito window for a reason. Just sayin'…