As some of the other big-name conferences are making headline after headline on a daily basis — and not necessarily the positive, stable kinds — the SEC has been strangely and eerily quiet throughout much of this offseason.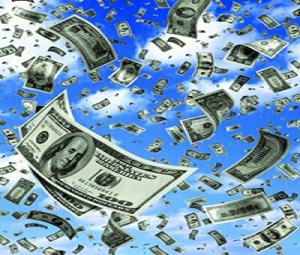 And, apparently, there's good reason for that: it takes absolute, complete and total silence in order to not lose count when you're processing a veritable river of revenue.
(On the right is an actual view of the horizon outside of commissioner Mike Slive's office. Every. Single. Day.)
According to figures released this afternoon, the conference generated $209 million in revenue for the 2009-2010 school year. With each member of the school receiving an even split of the pot — hear that, Texas? — that means that every school will receive in the neighborhood of $17.4 million apiece — minus the $50 annual dues each pays to the conference, of course.
For 2008-2009, the total revenue was $132.5 million, with each school receiving $11.1 million. By my calculations, that's a nearly 57-percent increase per institution. In an unstable and volatile economy.
Of course, each member of the Big Ten will reportedly receive $22 million for the same time frame, but there's little doubt that, on the field and at the bank, the SEC remains the premier conference in the country.