There is a social media movement afoot that intends to bring the vuvuzelas — the bane of ear drums within hearing distance of a TV set carrying a World Cup soccer match — to the world of college football this season.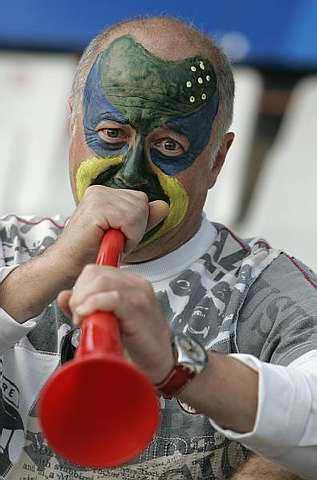 By way of our buddy SportsByBrooks.com, we have learned that an Ohio Student student has for some ungodly and unknown reason created a Facebook page called "Vuvuzela Day for Penn State". The goal of this page — other than to annoy the living spit out of 100K-plus fans in attendance, plus millions watching from the comfort of their homes — is to have as many people as humanly possible bring the headache-inducing horns to the Buckeyes-Nittany Lions tilt on Nov. 13.
Fortunately for all involved, we may be spared from this abomination.
According to Marcus Hartman of the aptly named marcushartman.com, a Big Ten official has "confirmed vuvuzelas are not allowed in Big Ten stadiums per policy against irritants and noisemakers."
Spencer Hall of EDSBS.com takes it a step further, posting the relevant rule prohibiting "irritants and noisemakers", which most certainly describes the vuvuzela to a "T".
A. Nonpermissible Items – The arena management is responsible for enforcing the Big Ten policies in this regard. The following items may not be brought into the arena by patrons: Alcoholic beverages, bottles, cans, cups or containers, irritants (e.g., noisemakers) or strobe lights. In addition, the facility may have additional restrictions on items that can be brought into the arena.
So, it appears we can rest easy as a long national nightmare has been avoided. And for that we can all be thankful.