Based on my limited experience with the latest 3D technology — would highly recommend "How to Train Your Dragon", especially sometime after 4:20 in the afternoon — the thought of viewing a college football game through the wonders of 3D has quickly escalated to near the top of my sports to-do list.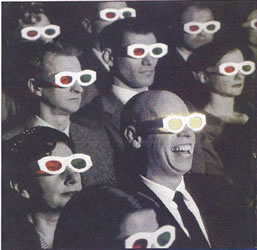 Thanks to ESPN, we will all have that opportunity this fall. If, ya know, you can shell out the bucks for a 3D television (glasses sold separately).
According to a press release from the network, ESPN 3D has scheduled three early-season non-conference games — involving three teams expected to be ranked well inside the preseason Top Ten — to be broadcast utilizing a new technology that's more than three years in the making.
Coverage will begin with the Boise State-Virginia Tech match-up Sept. 6 at FedEx Field. Ohio State-Miami in Columbus on Sept. 11 follows, and the network will put the wraps on their initial 3D schedule with the Auburn-Clemson game on The Plains on Sept. 18.
This will not be the first time that 3D technology has been used for a college football game; Sept. 9 of last year, the Ohio State-USC game served as a test telecast for ESPN 3D, although that game was only shown at a very select few movie theaters.