It's been eleven months since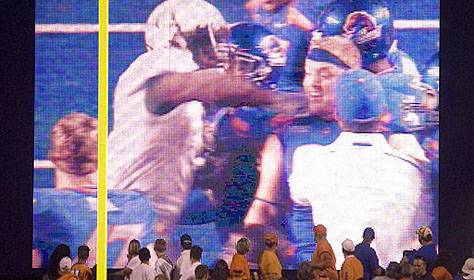 During that time, the player whose face was on the receiving end of former Oregon running back LeGarrette Blount's right fist, Boise State's Byron Hout, had not spoken publicly about the incident. With BSU's summer camp opening ahead of a season rife with national title dreams, the Broncos linebacker has broken the school-imposed silence and discussed one of the most bizarre situations in the game's history.
"It's always going to be a shadow, I guess, in my career – a dark point," Hout said according to the Idaho Statesman. "But I just try to learn from it. Everything happens for a reason and that happened to teach me, and hopefully a lot of other players, that you can't let your emotions get out of control.
"Emotions were running high from the game and I think that just carried over to the whole incident. A great football player is in control of his emotions out there. You can't just be out there running wild."
As for just what precipitated Blount's postgame punch and subsequent running amuck, Hout confirmed that, after he slapped Blount on his shoulder pads, he asked the Ducks back "How 'bout that ass-whuppin'?", a response to Blount's pregame volley that the Broncos were owed an ass-whooping by the Ducks.
Hout said that he and Blount spoke the day after the punch, and both were remorseful. The same couldn't be said for Hout's teammates.
"Everybody else besides him was laughing," RB D.J. Harper said.
The linebacker realizes that he will forever be a part of college football lore, and he will never ever escape the shadow of being "that guy".
"My kids are going to see it," he said. "It's going to be something I'm going to have to explain to them."