It's hard to believe its been 11 years since former Arkansas offensive lineman Brandon Burlsworth tragically died of injuries sustained in a car wreck just weeks after being drafted by the Indianapolis Colts.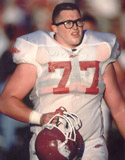 A new award set to be announced next week will ensure that Burlsworth's collegiate career, at least, will be remembered for many years going forward.
According to the Associated Press, the Burlsworth Trophy will be introduced Monday at a news conference at Arkansas' Razorbacks Stadium. Beginning with the 2010 season, the national award will annually honor a college football player who began his career as a walk-on.
Burlsworth was a former walk-on for the Razorbacks who, through hard work and sheer determination, turned himself into a second-team All-American and a third-round pick in the 1999 NFL draft. 11 days after that April draft, Burlsworth was killed when the vehicle he was driving following a workout drifted across the center line and, ultimately, was struck head-on by a tractor-trailor.
Former Arkansas head coach Danny Ford and former athletic director Frank Broyles are expected to take part in the ceremony.