USC and Texas staged what was one of the greatest games in college football history in the 2005 national title game.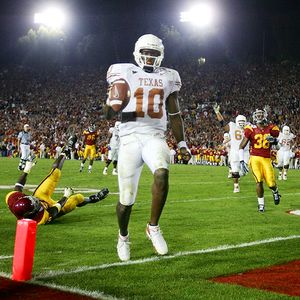 Five years later, they've agreed to a rematch of sorts.
USC athletic director Pat Haden, presumably after seeing what brown can do for him, announced this afternoon that the two schools had agreed to a future home-and-home series. USC will host the Longhorns in the Coliseum on Sept. 16, 2017, then the Trojans will play in Austin on Sept. 15, 2018.
"USC versus Texas is a classic match-up and I'm sure fans from both schools, as well as all college football fans, will look forward to these games with much anticipation," said Haden in a statement. "It's been a long time since USC has played Texas in the regular season, and of course we all remember how exciting the recent bowl game meeting was between the teams."
The last time the two historic programs faced each other in the regular season was in 1967. USC holds the all-time series lead 4-1. And you don't have to be a rocket surgeon to figure out where that lone blemish came from.
In addition to the Texas series, USC also announced the scheduling of a 2013 game with Utah State. That game, of course, will be played in Los Angeles and is scheduled for Sept. 17.