There are a lot of unique things a coach will do to prepare his team for a game. Some play loud music over stadium sound systems to simulate crowd noise. Others put in their best athlete at quarterback so defenses can get a feel for dual-threat signal-callers.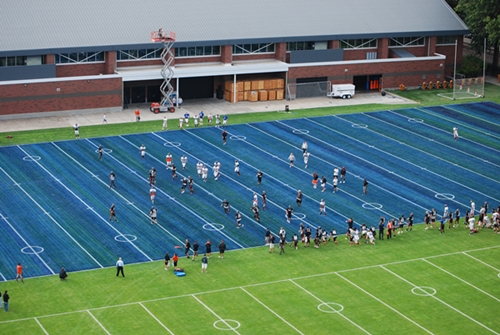 Oregon State took that preparation one step further when they painted their field blue Monday "so the team canpractice on it the next three days in hopes players will be able to getover the novelty [of playing Boise State]." The funds for the paint job came from an anonymous donor.
"It looks amazing," said Oregon State head coach Mike Riley. "Just to be on it, in some little way, preparing you for the environment that you're going to be in. Some people pipe in music."
Mimicking field color to help his team prepare might seem a little (okay, a lot) out of the ordinary, but Riley stresses the 440-gallon makeover was a good call.
"Let's give credit where credit is due — (Oregon State athletic director) Bob De Carolis has been thinking about this a lot longer than a month," Riley said in a press conference Tuesday.
The last time the Beavers traveled to Boise in 2006, they walked away with a 42-14 loss and their tail — or paddle-like flipper thing — between their legs . As far as we know, there was no Corvallis Smurf-Turf to help them adjust to the frenzy that is Bronco Stadium.
Gotta be prepared.