(Here's the press release issued Monday evening on the passing of George Blanda. Blanda, who was a star quarterback at the school from 1945-1948 — the last three years under Bear Bryant — died today at the age of 83.)
George Blanda, who helped lead the University of Kentucky to the first bowl game in school history and went on to become a professional football legend, passed away Monday at the age of 83.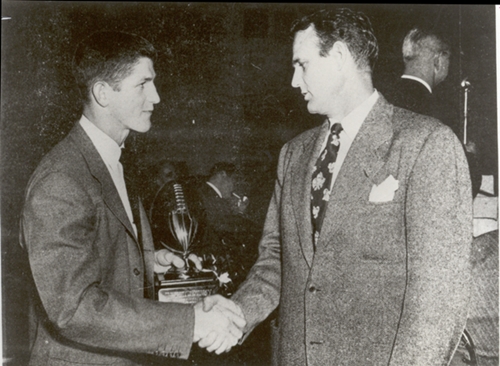 Blanda, who came to UK from Youngwood, Pa., played for the Wildcats from 1945-48 under coaches Bernie Shively (1945) and Paul "Bear" Bryant (1946-48). He was a quarterback, placekicker and punter. He was the team's starting QB as a junior and senior. During his junior season in '47, Blanda guided UK to an 8-3 record, including a 24-14 win over Villanova in the Great Lakes Bowl, the first bowl game in school history.
"The University of Kentucky is saddened by the passing of George Blanda," said Mitch Barnhart, UK Director of Athletics. "His legacy as a legend for the Wildcats was only eclipsed by his stature in the National Football League and American Football League. His longevity in the game and tremendous competitive spirit will be the trademarks remembered by the fans he entertained. Our prayers and best wishes go to (his wife) Betty and the family."
Current Kentucky football coach Joker Phillips also had reflections on Blanda.
"George was very personable and a gracious gentleman," Phillips said. "He loved the state of Kentucky and Kentucky football. I first met him when he came here for a speech. He did an unbelievable job of telling his story and motivating the audience. Our condolences and prayers go out to Betty and the Blanda family."
Blanda was a 12th-round draft pick by the Chicago Bears in the 1949 draft. His pro career began with the Chicago Bears (1949-58) and included a one-game stint with Baltimore in 1950. He joined the Houston Oilers of the new American Football League in 1960, leading the Oilers to AFL titles in '60 and '61. He was the AFL Player of the Year in 1961 and he stayed with the team through 1966.
Blanda concluded his football career with the Oakland Raiders from 1967-75, achieving legendary status for his clutch performances as a quarterback and placekicker. The apex of his feats came in 1970, at the age of 43, during a five-game stretch when he led the Raiders to four wins and a tie with late touchdown passes and field goals.
Blanda set pro career records for most seasons played (26), games played (340), total points (2,002) and PATs (943). His records for games and points have since been surpassed but he continues to hold the career marks for seasons played and PATs. He was named to the Pro Football Hall of Fame and also selected to the UK Athletics Hall of Fame.