Move over, Russ. There's a new bulldog in town.
Since the untimely death of Uga VII in November of last year, Russ has served as the interim mascot for Georgia home games. Now, Uga VII's grandson will be stepping in this weekend to begin his career as one of college football's most famous, revered and recognizable mascots.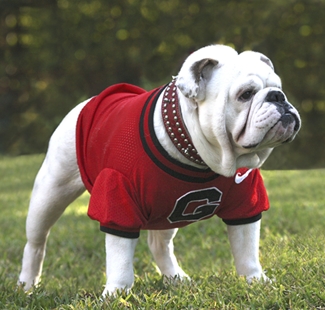 According to a press release issued by the school, Uga VIII will make his debut this Saturday as the Bulldogs host Vanderbilt at Sanford Stadium.
The pre-game "passing of the collar" from interim mascot, "Russ," to Uga VIII will take place at mid-field in the presence of UGA President Dr. Michael F. Adams, Director of Athletics Greg McGarity, and members of the Frank W. "Sonny" Seiler family, long-time owners of the Bulldog line of mascots.
Uga VIII, who goes by the name Big Bad Bruce when he's not on the clock, is a white male English Bulldog born Sept. 12, 2009. He weighs in at a very stout 55 pounds, although it's believed the school's strength & conditioning coach sees him mascoting more in the 60-pound range.
"We had several puppies that were direct descendents from the Uga line to choose from," said Seiler. "We came to the conclusion that this dog had all the physical attributes that we look for in a Georgia mascot. He is the grandson of Uga VI. He is only 13 months old. He already weighs 55 lbs. and we think that he has an excellent head. We made the choice based on experience and I'm confident the Bulldog Nation will be pleased when he is introduced Saturday."
"Uga VIII is one of the most storied mascots in the history of college athletics," said McGarity. "He is the rallying point for the Bulldog Nation. As our mascot he represents everything we want our student-athletes and fans to be…proud, loyal, tenacious, and relentless. We look forward to his long and successful reign and appreciate all the Seiler family has contributed to our mascot program for more than half a century."
(Photo credit: Danny White)