For the first time in a decade, the postseason game played in Mobile, Ala., won't have the name GMAC attached to it.
According to a press release issued by the organization charged with running the game, web hosting provider GoDaddy.com will become the title sponsor of the bowl game that pits a school from the MAC against one from the Sun Belt Conference.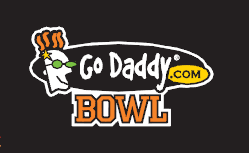 There was no word in the release as to how many years the sponsorship is for.
""We thought it was about time Go Daddy had its own bowl game – the GoDaddy.com Bowl has a nice ring to it, don't you think?" asked Go Daddy CEO and Founder Bob Parsons. "Football is one of America's favorite pastimes and if college football fans are anything, they are passionate and loyal. We like that!"
"We're excited to have a powerhouse like Go Daddy behind Mobile's biggest event of theyear," said GoDaddy.com Bowl President Jerry Silverstein. "Go Daddy stepped up bigtime for this sponsorship, which is good for all of us. Our bowl holds the record for thehighest-scoring game in college football bowl game history. We are looking forward toanother marquee matchup."
The game Silverstein was referring to was the third GMAC Bowl back in 2001, which saw Marshall down East Carolina 64-61 in double overtime. The first GoDaddy.com Bowl will be played January 6 and televised by ESPN.