Any time the No. 1 running back recruit in the country lives right down the road, you do your best to go see him play. Last night, Steele High School made quick work of their opponents, San Marcos, but the real story was the play — or lack thereof — of teammates Malcolm Brown, who verbally committed to Texas, and Marquis Anderson, who verbally committed to Oklahoma.
Prior to Friday night, Steele (8-2 overall) had already locked up their league (Region IV, District 25) on the way to the Texas 5A playoffs. As a result, Brown played just a few series in the first quarter and Anderson didn't even dress.
There's been a lot of buzz around Brown, who committed to Texas before the start of this season.  "It was a family atmosphere at UT," said Brown. "Coach [Major] Applewhite did a good job. He recruited me to the point to where I knew he was interested, but he wasn't annoying."
As Texas looks to transition to a more pro-style offense, there's a lot of speculation that Brown can make an immediate impact. However, Texas' offense has struggled this year to say the least. Offensive coordinator Greg Davis has failed to put together a consistent offensive game plan and the running game has been played by committee.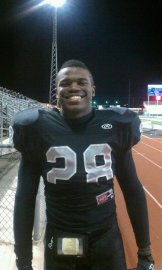 Brown's a good kid and, I'm sure, a very hard worker, but there are two aspects that will impact his success at the next level. First, he — like all kids — has to go and compete. Brown's a five-star recruit, but so are a lot of the kids suiting up alongside him. Rarely can a kid just walk on to campus and have success without working for it. A coach will tell you it's impossible.
Second, Brown isn't going to fix any problems with the Texas offense. If Mack Brown wants a pro-style offense, he'll need a pro-style offensive line, something Texas just doesn't have right now. It may not be, either, that the state of Texas is going to give you those recruits. It seems like every high school in the Lone Star state  runs the spread.
As for Anderson, the six-foot-three, 260 lb. DT says Oklahoma "just feels like home." Anderson is a tad undersized for the interior line position, but he has remarkable tenacity and, in the season opening loss against Madison, it seemed like his name was called every other play.
Anderson, like Brown, has the chance to succeed at the next level. The senior mentioned Bob Stoops' ability to coach NFL-caliber linemen, a la Gerald McCoy, who was taken No. 3 overall in the 2010 NFL Draft. The Sooners have three DT verbals for the class of 2011 from Anderson, Jordan Phillips and Jordan Wade from nearby Stony Point HS (Round Rock).
When asked about the possibility of playing across from each other in Dallas in the Red Rivery Rivalry, Anderson said, "It's going to be fun lining up across from him," while Brown simply smiled and said, "Man, it's going to be good."