As is the case every week, any omission below is not on purpose, it's merely intentional.
WINNERS
Blowing out the candles on No. 400
Who else could — or should — lead off this edition of W&L?   All the legendary and beloved Joe Paterno did Saturday was put the 400th notch in his victory belt, becoming the first — and probably last — Div. 1-A head coach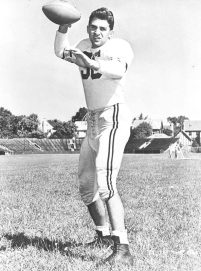 to reach that unthinkable milestone.  And, as the icing on top of a lifetime celebratory cake, his Penn State players did it for him in spectacular fashion, overcoming a 21-0 deficit to score the last 35 points of the game in beating Northwestern.  I've said it before and I'll continue saying it 'til either he or I takes our last breath: this is a better game when JoePa is in it.  Congrats, Coach Paterno.  You don't want or need the plaudits that will be lavished upon you in the coming days, but you sure as hell deserve them.
Utes is served
The biggest game of the day?  TCU at Utah.  You know how we know it was biggest game of the day?  The World Wide Leader decided to grace Salt Lake City with their presence.  And then the Horned Frogs promptly decided to take a leak all over their host's rug, Big Lebowski style.  And, in the process, made a resounding statement that they are not only the best non-automatic qualifying school in the country, but maybe, just maybe, they're the best damn team in the land.  The Horned Frogs absolutely dismantled a previously unbeaten Utes squad in each phase of the game and in every way imaginable in their 47-7 road win that wasn't even as close as the final score indicates.  558 yards of total offense while that stifling defense held the Utes to 199.  11 first down allowed against an offense that came in averaging over 21 a game.  Nearly a 40-20 advantage in time of possession (more on that stat shortly).  Against the No. 6 team in the country.  I don't know if TCU is the best team in the country, but I would sure as hell like to see it proven one way or the other on the field.
Remember me? It's spelled B-o-i-s-e…
Hawaii came into Saturday's game with Boise State ranked No. 7 in the country in total offense and No. 11 in scoring.  All the Broncos did was limit the Warriors to 197 yards (295 below their per-game average) and seven points (32 below their average) in a 35-point dusting  of a team that was that was 7-2 coming into the game.  Oh, and they put up over 700 yards of total offense of their own in a ho-hummer.  Of course, that will not be enough to stop the wailing and gnashing of teeth and whining and crying over their and TCU's worthiness as far as the national landscape is concerned, but they're doing all they can with the hand that's been dealt.  It's a shame, really.  Actually, it's more of a "should be ashamed" thing, really, but we won't pick nits here.
$200K? Money well spent
Cam Newton may have some (very serious) allegations swirling around him on the field, but it was of zero import to him on the field.  Of course, it was just Tennessee-Chattanooga, but the Race for the Heisman continues to run straight through Newton as the Auburn quarterback passed for 317 yards and four touchdowns while adding another one on the ground — all in the first half.  He was "held" to 24 yards on eight carries, however, which should be enough for Mike Bianchi and Thayer Evans and their ilk to shout "See!  See!  See!" as they count page views.  With three games left — two regular season, one bowl — Newton has 19 passing and 15 rushing touchdowns; with those numbers and that amount of games left, he has a more-than-decent shot at becoming  just the second player in Div. 1-A history to have 20 touchdowns both rushing and receiving in a single season.  The first and only thus far only?  Tim Tebow in 2007, of course.  Somewhere — hopefully — Bianchi just threw up a little bit in his mouth.
(Writer's note: much thanks to the alert reader who reminded us that Central Michigan's Dan LeFevour accomplished the same feat in 2007 — 27 TD passes, 20 rushing TDs.)
TOP = Overrated
Related to the above game, Chattanooga led in time of possession 37:02-22:58; Auburn had a 48-14 halftime lead and won going away 62-24.  Hell, take it even further, the Mocs had 22 first downs to 26 for the Tigers.  For some reason, "lies, damn lies and statistics" is running through my head right about now.  Then again, should Auburn be concerned about a defense that gave up 334 total yards to a Div. 1-AA school?  Probably not, but still…
"When God be blessin', the devil be messin'"
To finish up the Auburn trifecta of notes, the above subhead is an actual quote from Newton following the game and after being asked about the controversy that's been swirling all around him the past couple of days.  All I know is, I have a new phrase to put on my tombstone.  For the record, Newton's linguistic brilliance will replace "Here I sit, brokenhearted, tried to…" as my final resting-place missive to the living world.
Remember me, the sequel? It's spelled K-e-l-l-e-n…
A lot of people, including myself, have all but handed the Heisman to Newton.  Today, Kellen Moore reminded everyone that he should have a dog in this hunt.  Or, at least, a dog that gets a December invite to New York City.  The Boise State quarterback passed for 507 yards and three touchdowns in the win over Hawaii, although he did double his season interception total with two inexplicable picks.  Still, he now has  21 touchdowns versus four interceptions this season, and 60 and five the past two seasons combined.  Just buy the man's plane ticket to NYC and get it over with already.
Gators and Gamecocks: It's on
Despite the fact that they have lost three of their seven conference games, Florida can still win the SEC lEast with a win over South Carolina next weekend in The Swamp.  And could then play their way into a BcS berth as a three-loss team with an upset in the SEC championship game.  Of course, the Gamecocks can and could say the exact same thing.  Wait, should this note actually be in the winners?
Big House fireworks
We'll get to the defenses in the Losers (obviously) portion of this piece, but for now we come to praise one helluva college football game for fans to take in both in person and at home.  Three overtimes, 132 points,  1,252 yards of combined total offense, 58 first downs and Michigan overcoming a 5-1 deficit in the turnover battle in getting a thrilling 67-65 win over Illinois in a game that had the sounds of Bo Schembechler rolling over in his grave echoing off in the distance.  On the bright side, the win makes the Wolverines bowl eligible for the first time since 2007; on the downside, quarterback Denard Robinson was injured.  Again.  Hey, you can't win 'em all.
Cowboy up!
The Big House wasn't the only place that saw an offense explode all over the field.  At The House That Boone Built, Oklahoma State rolled up an Oregon-esque 725 yards of total offense en route to baptizing Baylor (see what I did there?) 55-28 in Stillwater.  Quarterback Brandon Wheeden completed 34 of his 42 passes for 435 yards in the rout, with Justin Blackmon, the nation's leading receiver returning from a one-game suspensions, catching 13 of those passes for 173 yards.  The win gives the Cowboys the Big 12 South lead but, as noted earlier, that race is wide open heading into the home stretch.
The Comeback Coach
First-year Kansas head coach Turner Gill led his Jayhawk squad from 28 points down to beat Colorado 52-45 in what is likely Dan Hawkins' last season in Boulder. The Jayhawks have just been terrible this year, but you have to give a coach credit for 1) keeping his kids believing from week to week and 2) for keeping his kids believing from quarter to quarter. We're not saying Gill is Coach of the Year, but he deserves a lot of credit for this win, no matter how bad the Buffs are.
The first time?  Really?
From the Department of Whoda Thunk: With their 55-7 win over Idaho State, it marked the first time in school history that the Bulldogs have scored more than 30 points in five straight games.  Don't know why, but I thought that would've happened at some point before now.  So… ummm… congrats?
LOSERS
And Saturday's De Niro goes to…
Leading Kansas by 28 points in the fourth quarter, you give up 35 unanswered points to the Jayhawks and lose?  Colorado, and the embarrassment that is the soon-to-end Dan Hawkins era in Boulder, y'all are more than deserving of getting DeNiro'd this week…
[kml_flashembed movie="http://www.youtube.com/v/rm81LSKJC2k?fs=1&hl=en_US" height="240″ width="320″ /]
Book 'em Horns!
Yes, somebody associated with the University of Texas needs to be arrested, or at the very least be subject to an intensive and all-inclusive investigation that results in multiple arrests.  Somebody, anybody, needs to do some time for the crimes being perpetrated in Austin.  This year, not only have the Longhorns lost to UCLA, Iowa State, Baylor and Kansas State, but they've lost those games by a combined 62 points.  With three of those losses coming at home.  My God, the humanity.  Speaking of which, here's a sneak peek at UT's 2010 highlight video…
[kml_flashembed movie="http://www.youtube.com/v/2YY0xw5r1ro?fs=1&hl=en_US" height="240″ width="320″ /]
Nationwide recall on all Boomer Sooners
I get the fact that Texas A&M is "improved".  I get the fact that Oklahoma may have been a tad bit overrated heading into the season coughcoughPhilSteelecoughcough.  What I don't get is a Sooners team that had themselves positioned very nicely at No. 8 in the BcS rankings and in line for a season-ending Big 12 South showdown with their in-state rivals absolutely pooping themselves in College Station.  There are myriad things that makes you scratch your head about this season; Sooner losses to Mizzou and A&M are two of 'em.
Arkansas, circa 2010
On the plus side, the Razorbacks are arguably the fourth-best team in the entire SEC.  The downside?  The three teams ahead of them in the conference pecking order also happen to reside in the very same SEC West they call a divisional home.  Guess that 21-point win over SEC lEast co-leader South Carolina in Columbia meant… well… squat, actually.  Ummm, attaboy Hogs?  Maybe next year?
First-quarter doughnut? Banished to the losers…
For the first time all season, Oregon was held scoreless in the first period.  Of course, they proceeded to overwhelm the overmatched Washington Huskies 53-16 the rest of the way.  But, still, a scoreless first period is unacceptable for the most awesomest of awesome offensive juggernauts in all of the history of awesome offensive football.  Three words for that display: Un.  Axe.  Eptable.  Now, excuse me while I go remove my tongue, which is firmly planted deep into my left upper cheek…
The Big East LOLz OMG WTF
On Nov. 7, 2010, the Big East has exactly zero teams that are currently bowl eligible.  Yes, they have five schools within one win of qualifying, and two more within two wins, but they have no teams right now, in the first week of the last full month of the season, that are bowl eligible.   And they have an automatic berth in the BcS.  That right there is the biggest indictment of the current system for determining the "national champion".  It's an absolute joke that schools like TCU and Boise State and Utah have to be absolutely perfect and unbeaten and unblemished, while that embarrassment of a football conference automatically trips into a full share of the BcS money regardless of how badly they step all over their own junk.
Wherefore Art (Briles) thou, Baylor?
At 7-2 and leading the Big 12 South, Baylor was the epitome of the topsy-turvy 2010 season. That is, until they went to Stillwater and got a good ol' fashioned Southern Baptist spanking from Oklahoma State. Amazingly, this was the very Baylor team who, just the week before, went to Austin and handled Texas. The Bears have two games remaining against Texas A&M and Oklahoma, both in Waco. But, with the emergence of A&M quarterback Ryan Tannehill, the Aggies don't look like much of a pushover, anymore. If Baylor continues to play like they did against Oklahoma State, they could fall to 7-5 — certainly not awful by Baylor's standards, but a disappointing end considering what could have been.
Defense?  We don't need no stinkin' defense…
In the first 30 minutes of the Illinois-Michigan game, the two teams combined for 62 points and 706 yards of total offense.  Wolverines wide receiver Roy Roundtree had four receptions for 192 yards — again, all in the first two quarters of play.  The utter dearth of defense is understandable on Michigan's part — I think they were ranked No. 137 out of the 120 Div. 1-A schools in total defense coming in — but the Illini came in No. 15 in total defense and No. 12 in scoring defense nationally.  They gave up 10 more yards and 15 more points in one half of play than they had been allowing for entire games on average.  In other words, they Zook'd themselves yet again.
Send the bubble wrap in care of "Vandy RBs"
Vanderbilt entered Saturday's game without leading rusher Warren Norman, who suffered a season-ending wrist injury last weekend.  Norman's replacement, Zac Stacey, was knocked unconscious on a second-quarter hit, was taken off the field in a cart and with a neck brace, and did not return to the game.  The twin injuries at the position leaves the Commodores with just two scholarship running backs, possibly for the final three games of the season.
Miami of Florida "fans"
The following is a picture, courtesy of d1scource.com, of Sun Life Stadium during the first quarter of Miami's "home" game with Maryland: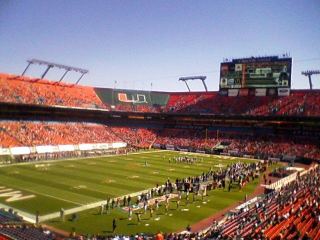 Regardless of how you spin it, Hurricane Nation, that (being generous) quarter-filled stadium is an embarrassing and shameful display of fandom.  Unless you were sending a message to the higher-ups at The U that you are extremely dissatisfied with Randy Shannon, in which case you resoundingly stated your case and made your displeasure very clear.  Well done?
Here's to you, Mrs. Robinson
Okay, so we're not implying Michigan quarterback Denard Robinson is a girly man, but the sophomore quarterback's health has been an issue the last several weeks. In a 67-65 (that's right) win over Illinois. Robinson left the game in the third quarter, citing "dizziness". "He was dizzy and had a headache," Rich Rodriguez said after the game. Poor baby. Look, all we're saying is that when Tate Forcier has to come in to win the game for you …
(Much thanks to Ben Kercheval, who helped me with the Winners & Losers this week.  In other words, you can blame all of the crappy ones on him.  Thanks in advance for your cooperation in this matter.)