It's been, what, a solid 21 hours or so since there's been an update on the Cam Newton situation?  Well, let's rectify that situation right here, right now.
On Wednesday, Auburn was unequivocal when it came to Newton's status for Auburn's game Saturday against Georgia.
"I want to get this off the table up front: Cameron Newton will be playing Saturday against the Georgia Bulldogs," head coach Gene Chizik.
Since that rock-solid proclamation, however, multiple reports have surfaced — most damning of which was Kenny Rogers' radio interview Thursday evening — that have called into question whether Newton will remain eligible for the rest of the 2010 season.  In fact, rumors have been bouncing off the walls of the Twitterverse throughout the day friday that Auburn will sit Newton this weekend.
As a result of this chatter, several media outlets — and CFT as well — have reached out to Auburn officials seeking a clarification on Newton's status.  The answer has been a resounding "no comment" on all fronts.  Auburn athletic director Jay Jacobs, when asked about Newton's status by ESPN.com's Joe Schad about Newton's status, gave the familiar "no comment" as well.
So, has something happened in the past 48 hours to make Auburn go from "Cameron Newton will be playing Saturday against the Georgia Bulldogs" to "no comment"?  It was suggested in a recent Yahoo! report that the NCAA could "recommend" Auburn hold Newton out of competition pending a ruling on his eligibility; has that "recommendation" been made, leading to the rumors that have been quietly simmering throughout the morning and the school lobbing "no comments" left and right?
Who knows but, based on the twists and turns this situation has taken in a little over a week, literally nothing would surprise us right now.
UPDATED 3:39 p.m. ET: Both the Birmingham News and AuburnUndercover.com are reporting that Newton is still on track/expected to start Saturday.  Gene Chizik is expected to meet with the media this afternoon, at which point this glitch should be straightened out.  or not.  One of the two.
UPDATED 4:27 p.m. ET: A tweet by Yahoo!.com's Charles Robinson — who was at the epicenter of the website's dogged investigative coverage of the Reggie Bush scandal — will most certainly ratchet up the chatter as to Newton's availability this weekend.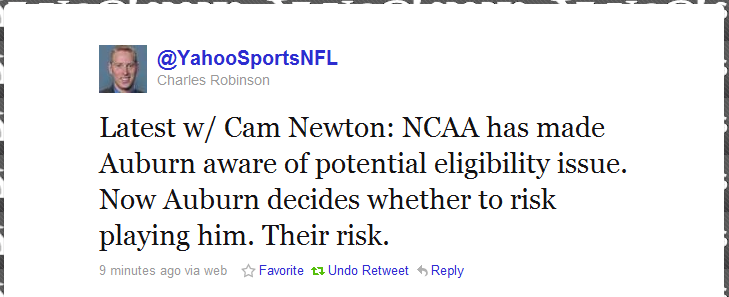 UPDATED 8:09 p.m. ET: For those who are interested, Newton boarded the team bus and traveled with his teammates to Montgomery for an overnight stay ahead of Saturday's game with Georgia.