Rick Reilly once wrote a feature with the lead, "Evel Knievel tried to jump the Snake River Canyon. David Copperfield tried to make 747s disappear. I'm going to try to defend Lane Kiffin."
Similarly, Big Ten commissioner Jim Delany is defending the conference's decision to name their newly-created divisions "Legends" and "Leaders", which as you might have read, weren't exactly warmly received by … well … anyone.
The defense will fall on deaf ears. In fact, the backlash to the names could be measured as a couple of torches short of a blood-thirsty mob barreling in on Delany's hilltop castle.
But the commissioner is confident in the decision.
"If people don't embrace it [the divisional names] in the first hour, then maybe after 24-36 hours … or in a couple of years," Delany pointed out. "Any time you have something new, it takes some getting used to."
According to the article via the Chicago Tribune, "Geographical names such as "Great Lakes" and "Great Plains" would not have been accurate. Delany said league officials felt that names such as "Hayes" and "Schembechler" or "Grange" and "Griffin" would not have been "inclusive" to all 12 schools."
Naming the divisions East and West would have been fine, but as we're sure you've guessed by now, subtlety isn't a part of the Big Ten mantra.
Delany also defended the new Big Ten logo, which received a similar stamp of (dis)approval.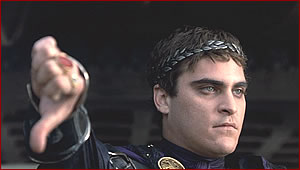 "Every one of the professionals we interviewed from the West Coast to New York said we needed to move beyond that," Delany stated. "The notion was that it distracts. The '11' was seen as transition, a little bit of a gimmick. It's no longer about the number. It's about the values and characteristics that the schools represent."
"We've been down that road before. The (Big Ten) Icons created a lot of controversies on campuses. And when I've tried to develop a Big Ten-type Hall of Fame, (school officials) ask: 'How many will I have? Who goes in first?' I know us. I think what we did was right."
Ultimately, it doesn't really matter what Delany says to justify the decision. Right now, the names and logos are a hot (and laughable) topic. In time, though, they will become part of the lingo and people will either forget about them, or the whole situation won't be such a big deal. 

Still, it doesn't behoove Delany or the Big Ten to shove superiority and tradition down anyone's throat.
That's the SEC's job.